Quick info:
| | |
| --- | --- |
| Activation Date: 14 October 2018 | |
| Transport: Hike (off-trail) | Distance: 1.7 miles |
| Elev. Gain: 870 feet | Time: 1.75 hours |
| Rig(s): MTR-3B | Bands: 30m (cw) |
| Antenna(s): EFHW | Antenna Support: Bring your own |
| RF Noise: Very Low | Cell Service: Marginal (T-Mobile) |
This summit was on the way back from the mini SOTA expedition Jamie N6JFD and I did mid-October of 2018. I'm writing this in April 2019 and back-posting it since I realized I never got around to writing it up last year, so some of the detail may be missing. The summit hadn't yet been activated, and it was directly on our route back from Nevada, right off the highway. Research showed there wouldn't be any hinderances to access, other than it being in the middle of nowhere.
Getting There
This is one of those unremarkable little summits nobody ever quite got around to activating. It's just off of Hwy 120, but there's no trail to the top. Just another of the bumps visible as you drive along. But this one's higher than some others, so it gets to qualify as a SOTA summit! The place we parked isn't a parking lot or road, but something in between. Don't really know how to describe it better than that. But it's a nice, clear spot to pull off and do this summit, right next to Hwy 120.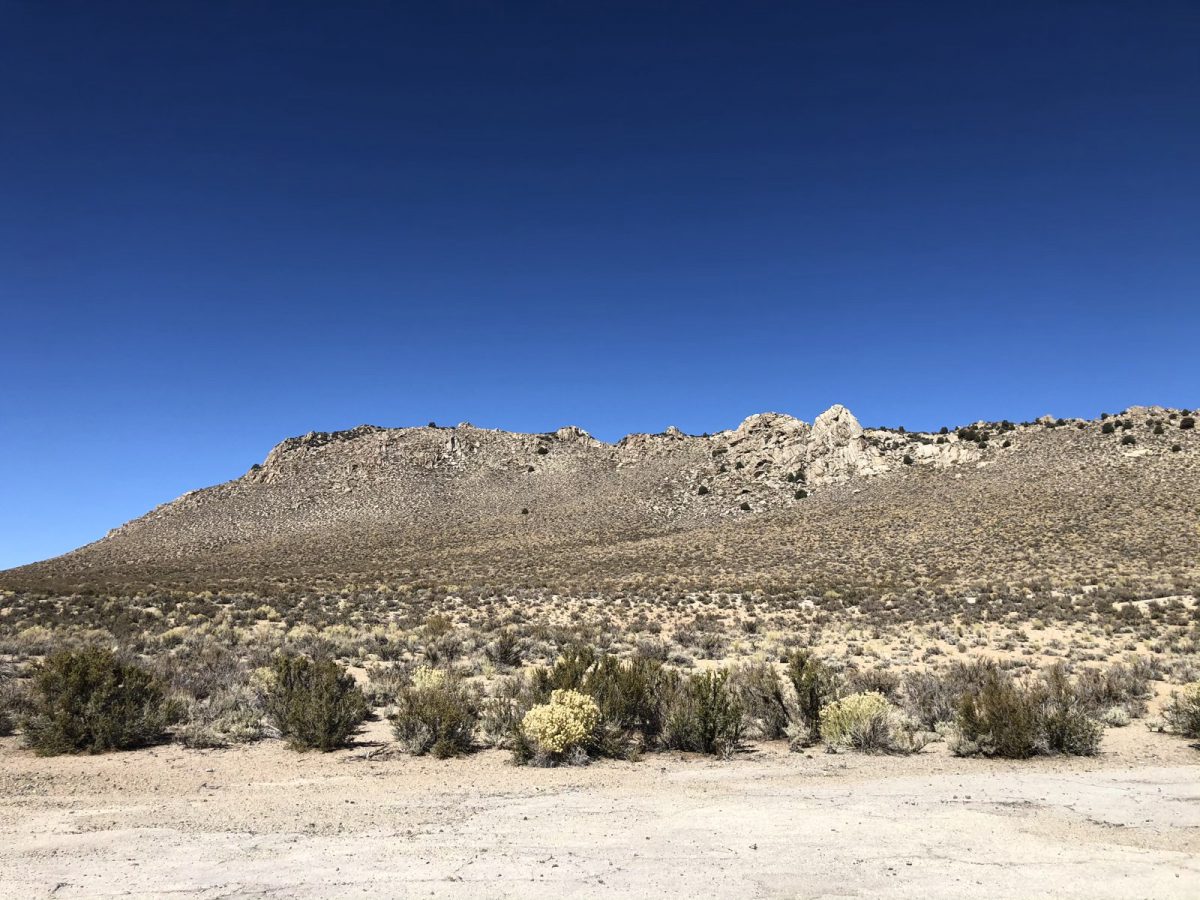 The Hike
Being early afternoon, it was starting to get warm by the time we started our hike. So I lightened up my pack but kept a windbreaker in there just in case.
With all in order, we proceeded north. There's no trail, so it's just a matter of working your way through the low scrub. It's sparse enough that it's not difficult, with freedom to move all but guaranteed.
It's a pretty gentle climb at first, then it starts getting a lot steeper. We traversed the slope both to cut back on the steepness and avoid the cliffy parts.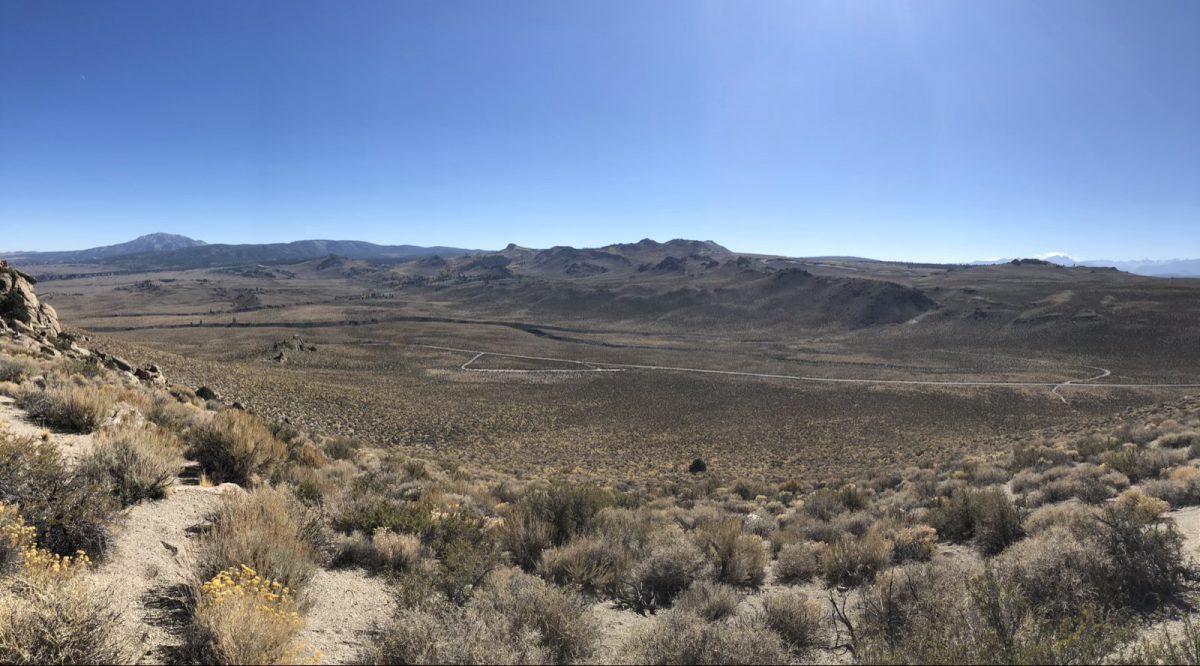 The soil here is very loose and sandy. That made the going a little slow, especially when working through the steeper parts. We kept working our way steadily uphill.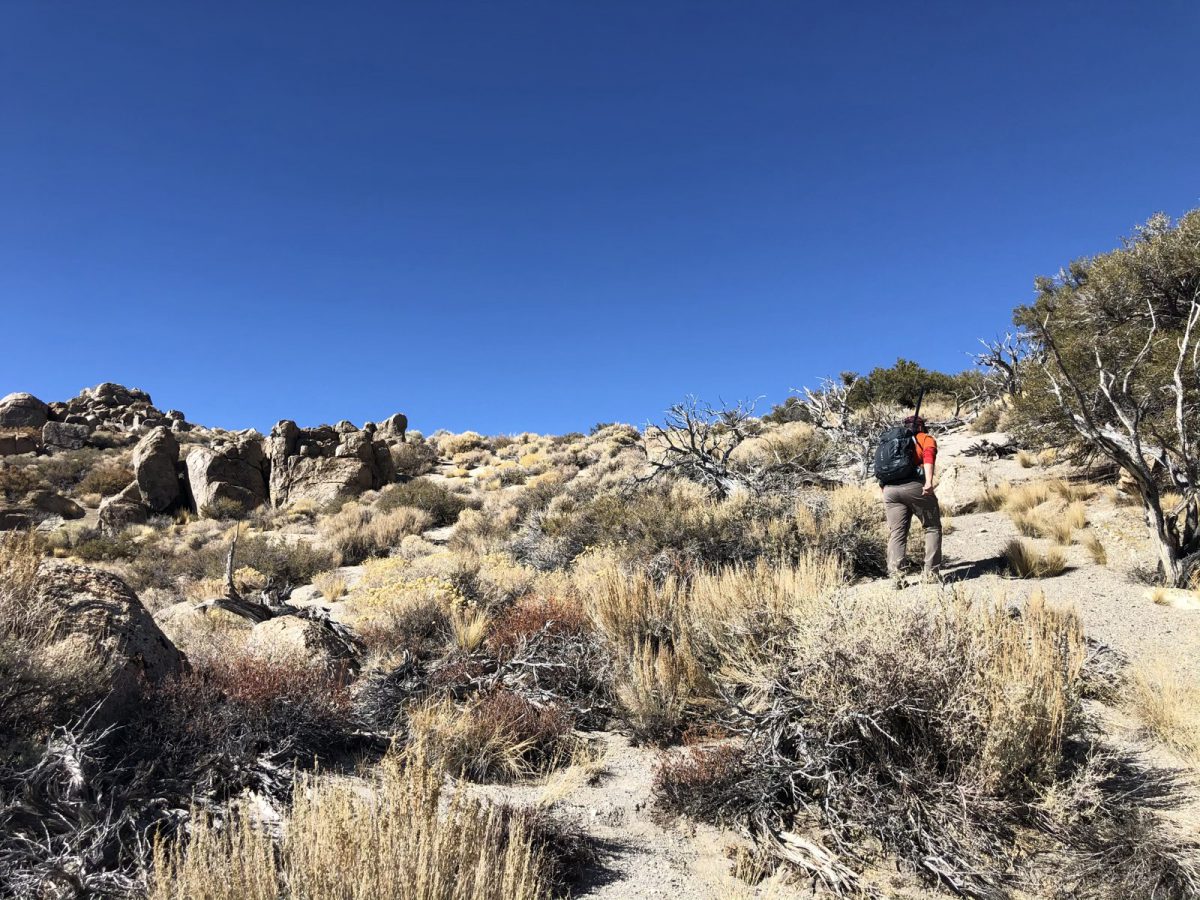 After about 50 minutes, we were at the top. A lot of the ridge is in the activation zone, so after walking around a little bit, we each picked a place from which to operate. I chose a rock outcropping that required a little bit of light scrambling to get to the top of. There was one block further along that was a couple of feet higher, but this one just felt right.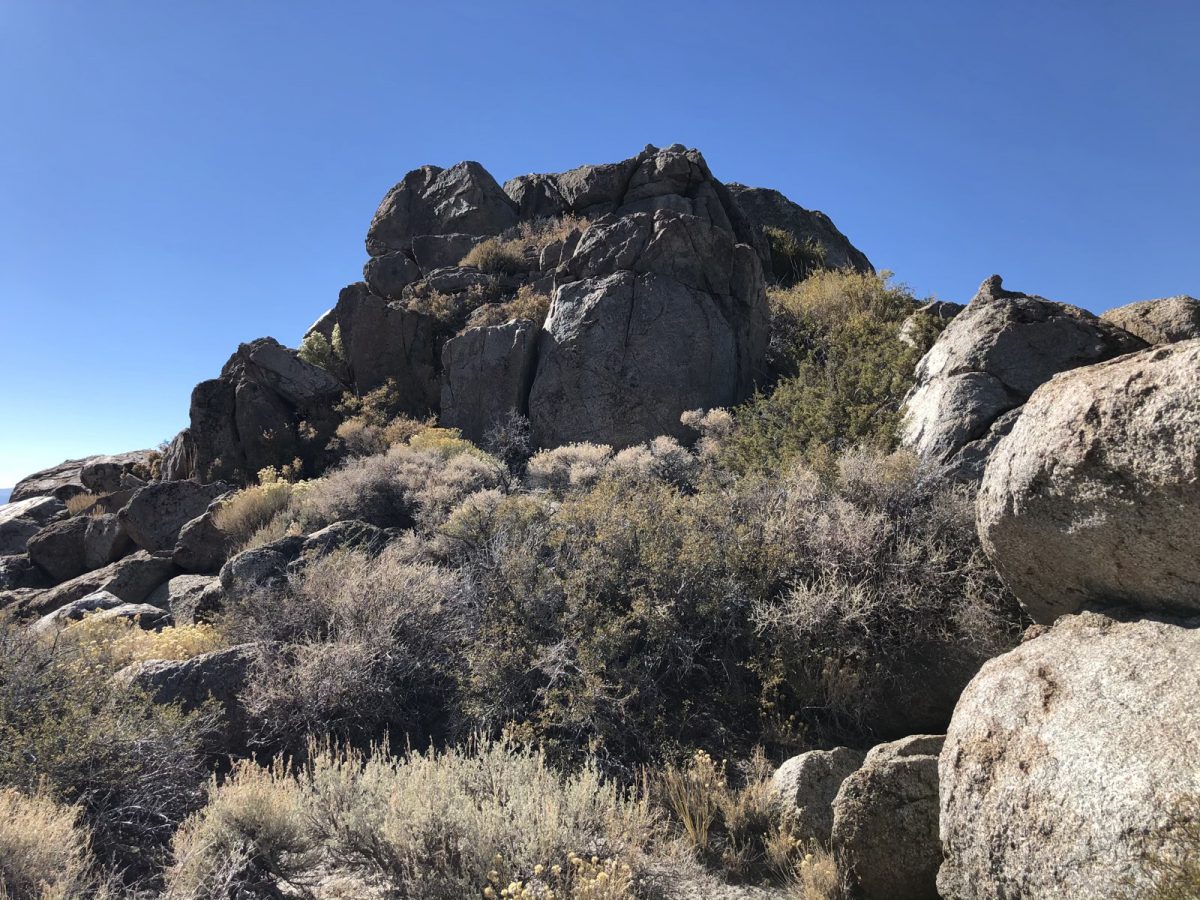 Setup and Operation
I climbed up to the top and started setting up my antenna, with the pole wedged into the top of the rock formation so that I could do sort of an "inverted L" antenna configuration. While I was up there, I grabbed a picture looking east, showing Jamie on his rock and our summits from the previous day way off in the distance.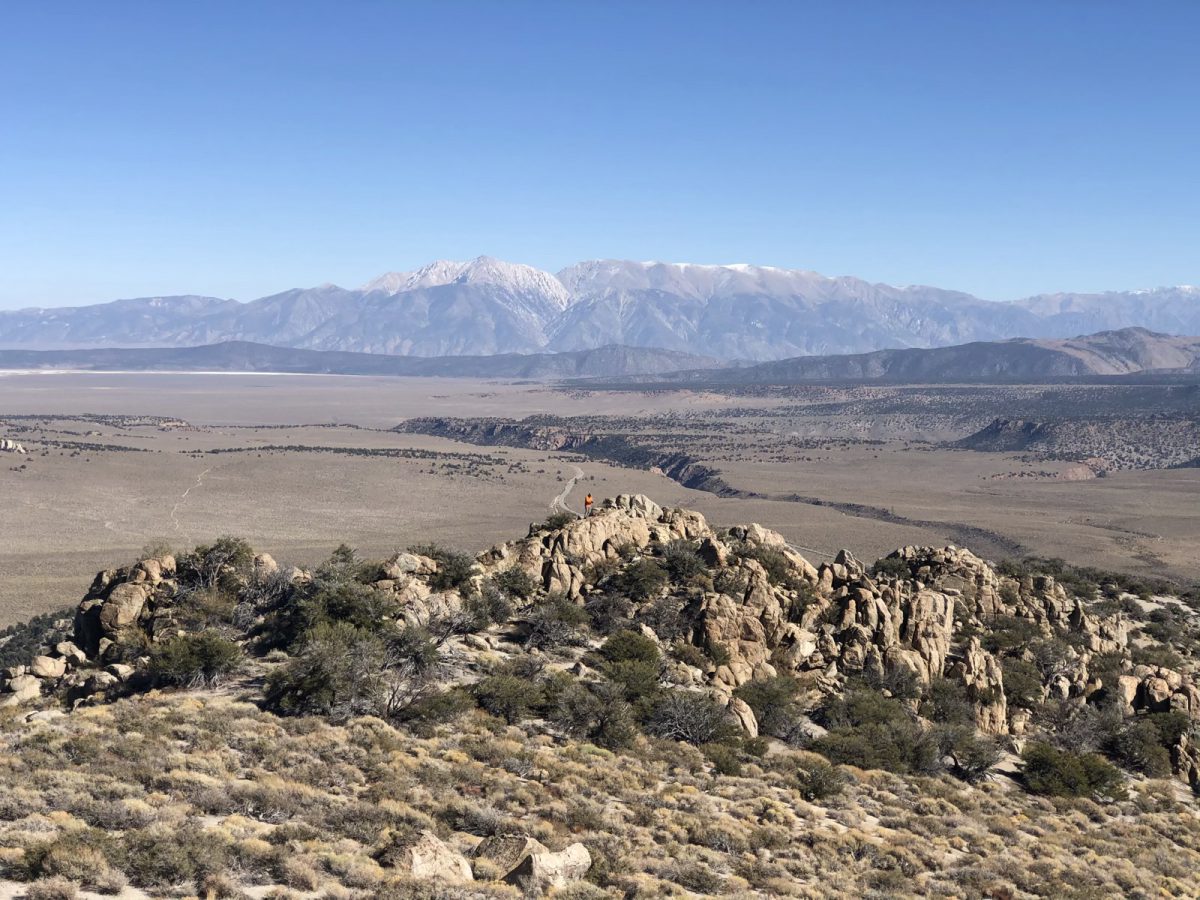 Having climbed down from the top, I set my radio on a rock so that I could operate in a standing position, and got to operating.
My EFHW antenna was still only good for 30 meters, so I operated just that band, while Jamie operated others. I made 8 contacts in about as many minutes, then went ahead and packed up after I'd gotten all I could.
I walked over to where Jamie was doing his activation. He was using his QRPGuys tri-band vertical and made several contacts.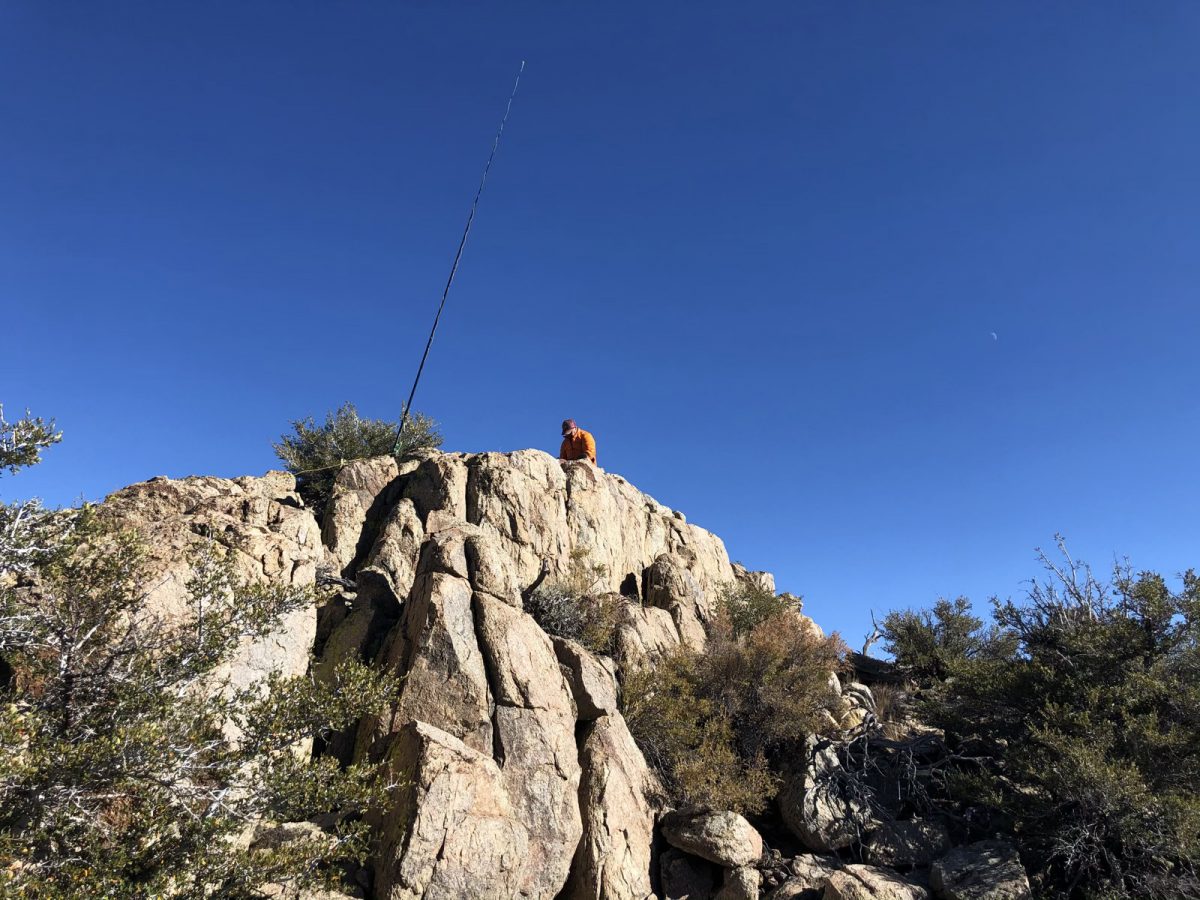 Hiking back down was pretty fast and fun! The sandy soil made for gentle downhill steps and we were back at the truck in no time.
Thanks to all the chasers!
Map
Download file:
nd-028-route.gpx
Activation Log
| | | | |
| --- | --- | --- | --- |
| Time | Call | Band | Mode |
| 21:50z | N6JFD | 144MHz | FM |
| 22:05z | NS7P | 10MHz | CW |
| 22:06z | W0MNA | 10MHz | CW |
| 22:07z | K0RS | 10MHz | CW |
| 22:07z | W0ERI | 10MHz | CW |
| 22:08z | NW7E | 10MHz | CW |
| 22:10z | NB6M | 10MHz | CW |
| 22:11z | N2ESE | 10MHz | CW |
| 22:12z | NU7A | 10MHz | CW |