Quick Info:
| | |
| --- | --- |
| Activation Date: 8 July 2020 | |
| Transport: Hike | Distance: 3.5 miles |
| Elev. Gain: 1060 feet | Time: 1 hour 20 min |
| Rig(s): Yaesu FT-891, VX-6r | Bands: 20m CW, 2m FM |
| Antenna(s): Linked Dipole | Antenna Support: Lookout Tower |
| RF Noise: Medium | Cell Service: Fair (T-Mobile) |
Ahhh – a nice, rainy hike into the clouds in my home turf of the Pacific Northwest. This was originally going to be a joint activation with Josh, WU7H after work on a weekday. But as things go, sometimes work gets in the way of other things! So, while I ended up doing this one on my own, it was nonetheless a very enjoyable outing.
Getting There
The best description of the route to get to the trailhead is on the WTA page. That being said, I did put the destination into Google Maps (after downloading offline maps) and was able to follow that there. I'd made notes from the WTA page just in case that didn't work out.
There's about 6.5 miles of dirt road to cover after turning off of Forest Road 70. And when I went up here, there was a washout just after turning onto the dirt road. My Honda Pilot was able to cross through this without trouble, but I made sure to go through carefully. I wouldn't have wanted to do this in a low-clearance vehicle.
After the washout, it was a simple matter of 5-6 miles of often washboard dirt road. If you have anything you need to shake loose from your vehicle, these roads will do it. There are a couple of shooting ranges on the way up, so don't be alarmed if you hear gunfire.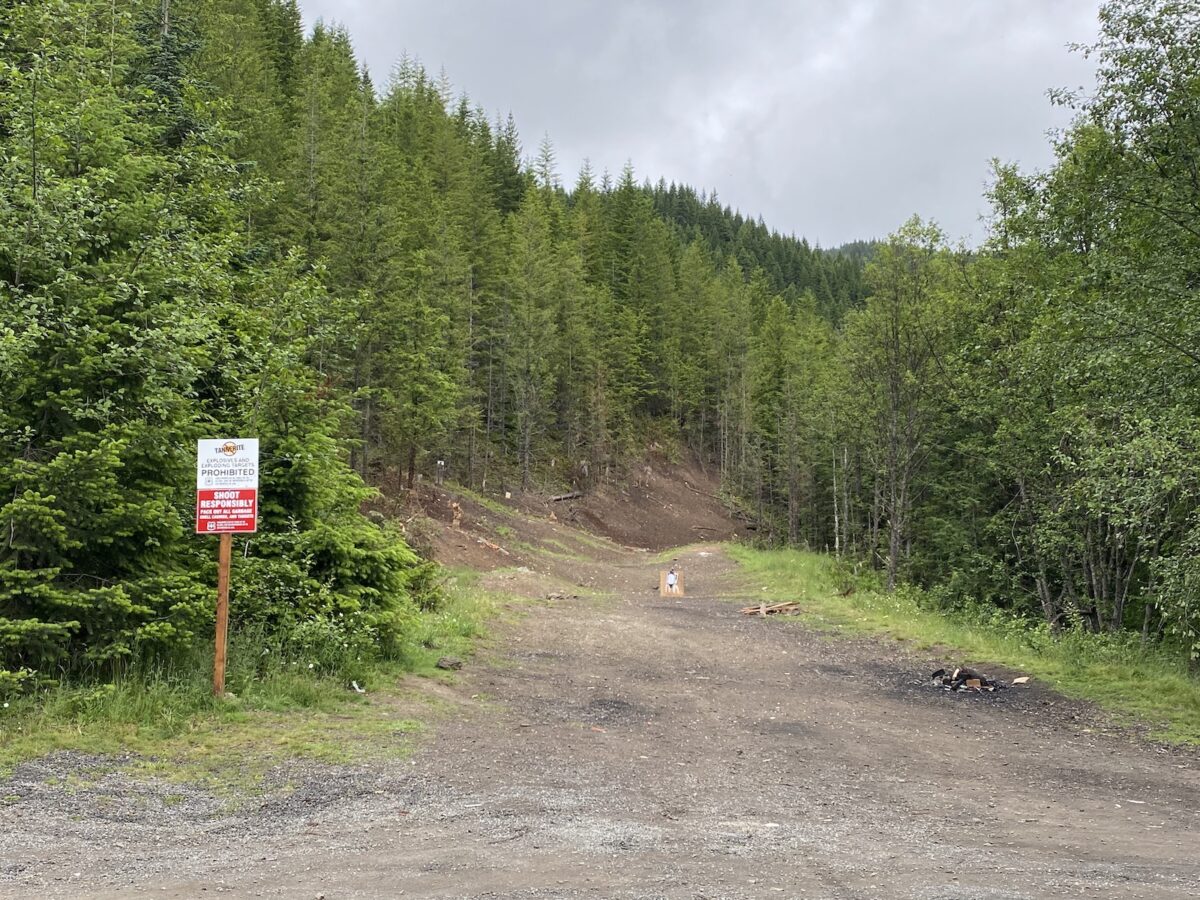 Once I arrived at the trailhead, it had started sprinkling. And there was nobody there. Anticipating more precipitation, I donned the rain jacket I'd borrowed from my sister, and a makeshift poncho I'd put together from a lightweight tarp.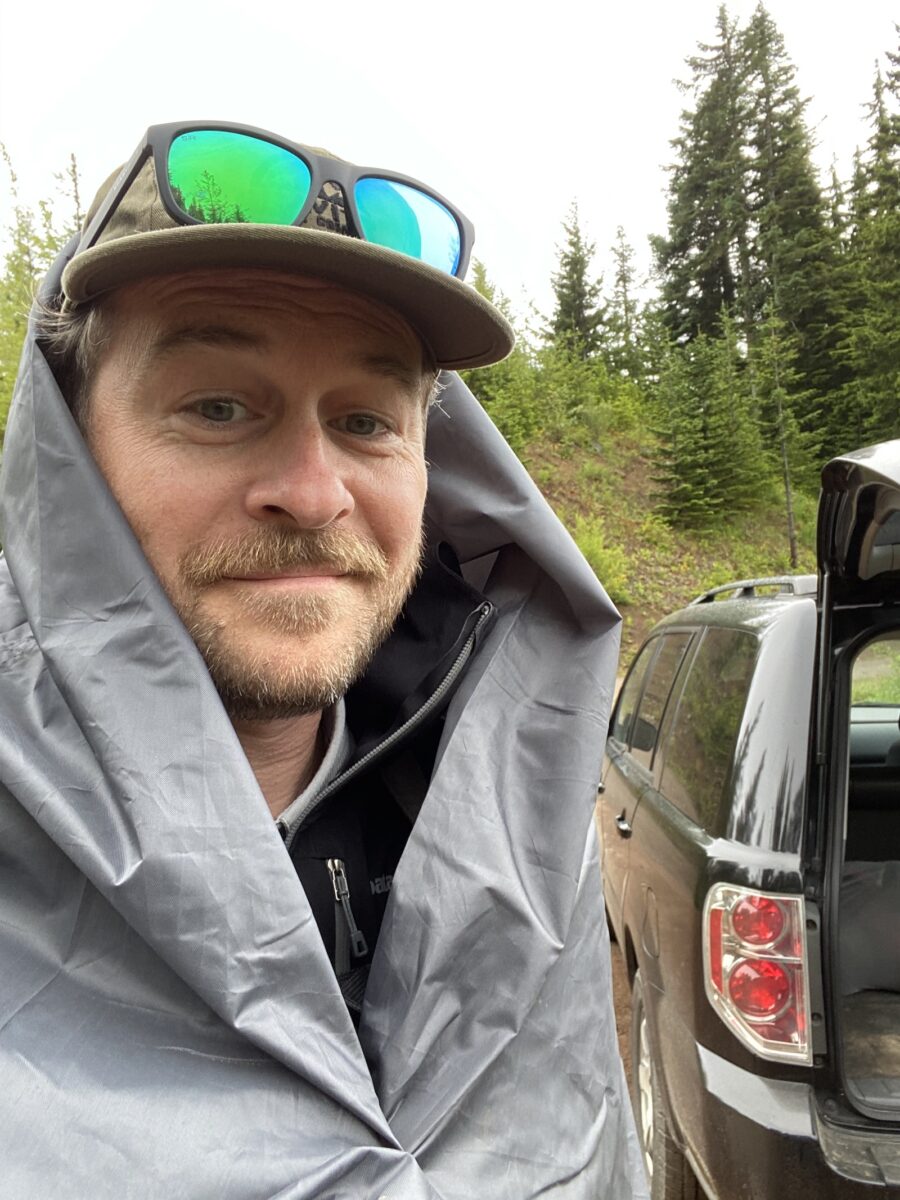 The Hike
I started my hike just after 5pm. Not too late for a short hike in the middle of summer in the PNW, when the sun sets after 9pm. As mentioned on the WTA site, the hike starts out on an old logging road. It's a pretty gentle grade for the first 6-tenths of a mile, then it goes up.
While the poncho was nice to have at the beginning when I thought the skies would be opening up to unleash millions of gallons of water, I quickly determined it was massive overkill to have a non-breathable layer over me. At the turn onto the new trail, I folded and stowed the tarp.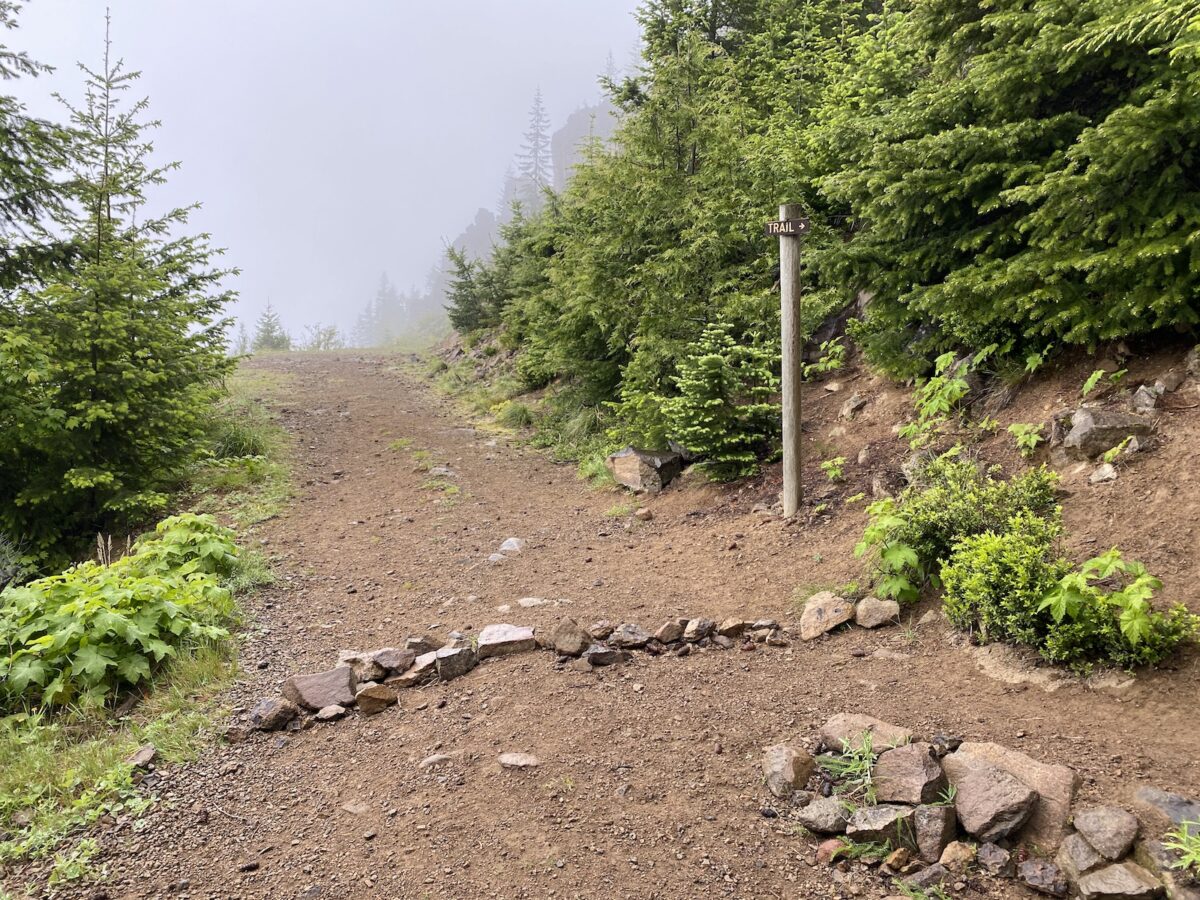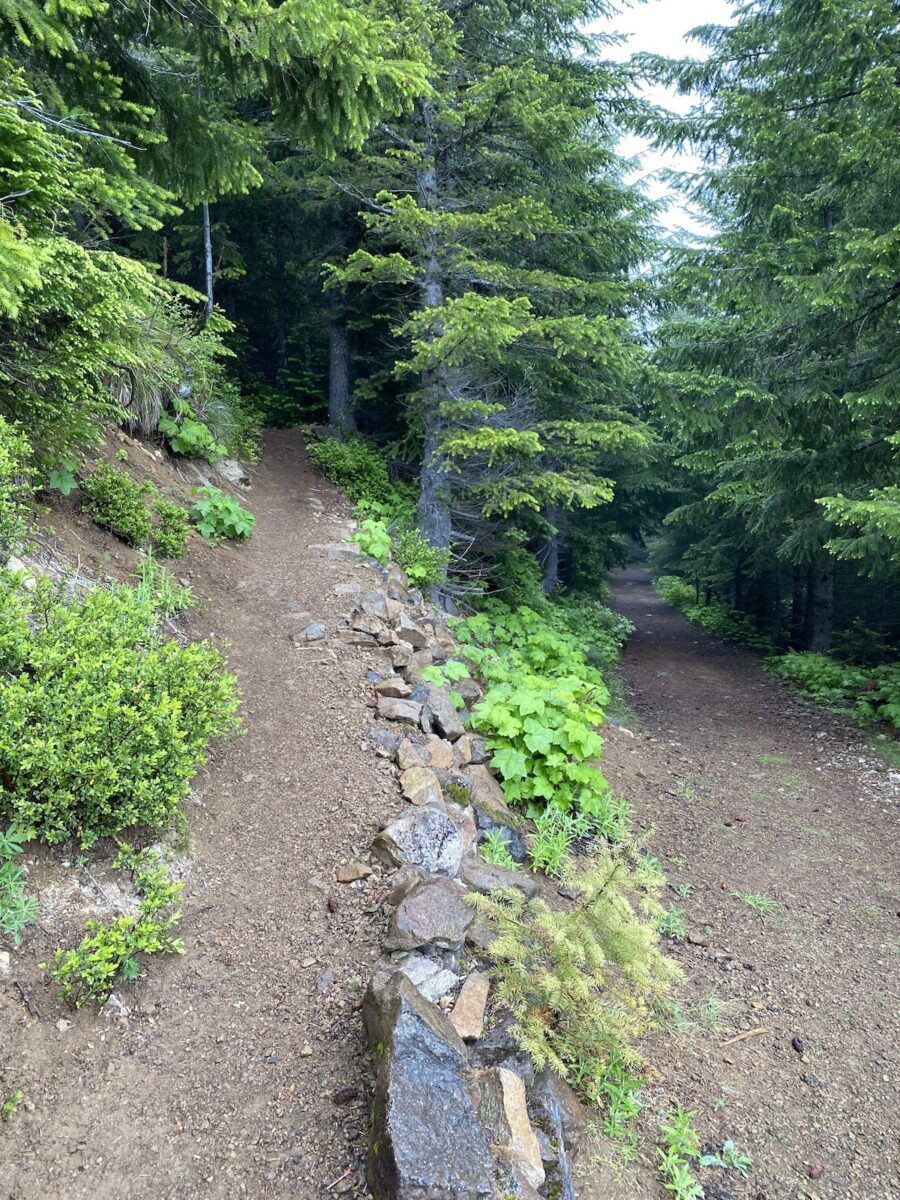 The trail has several switchbacks, winding through absolutely stunning alpine forest and rock columns. And I'm sure the views would have been spectacular, had I not been hiking in the clouds.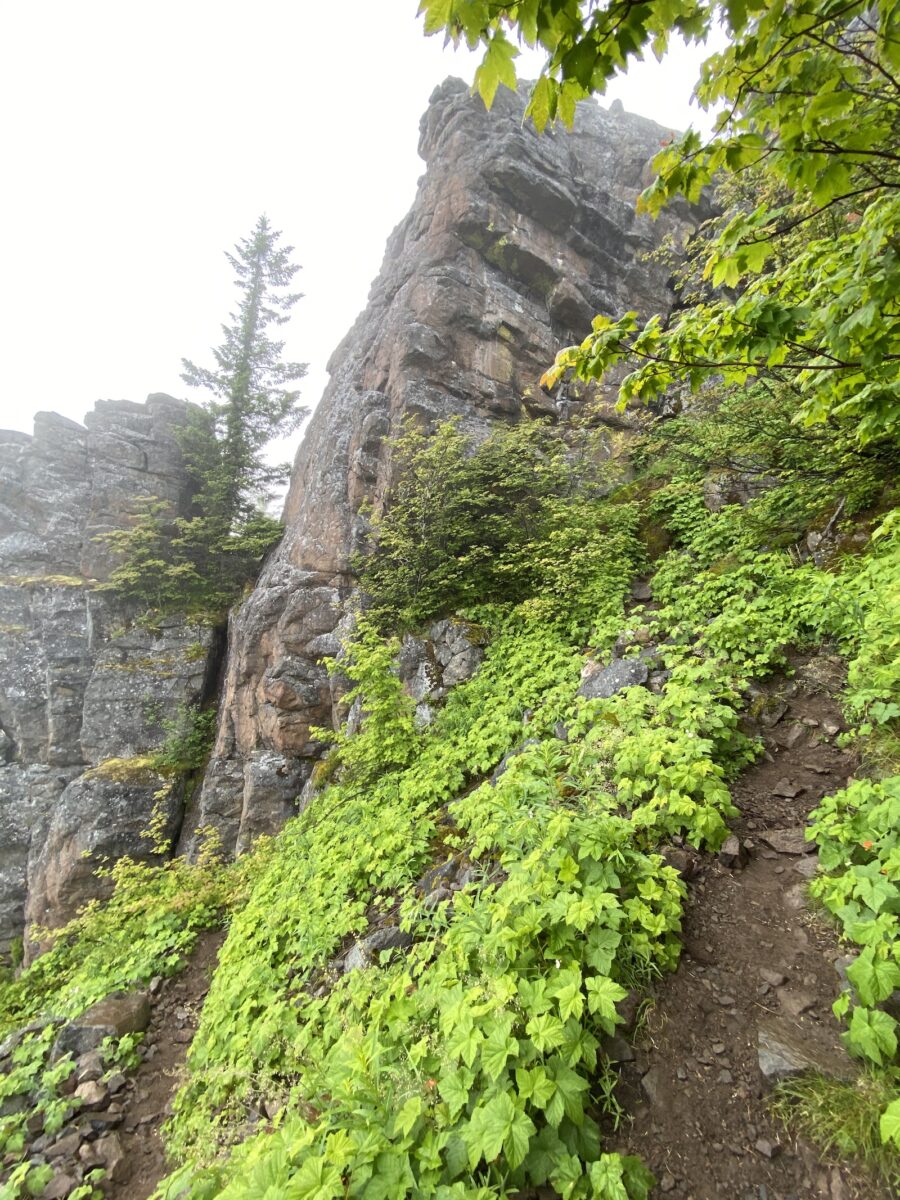 After the switchbacks, the trail pops out onto the summit ridge and what I would imagine would be expansive, beautiful views of the surrounding mountains. As it was, I had my own little special version of mountain/forest beauty in the clouds.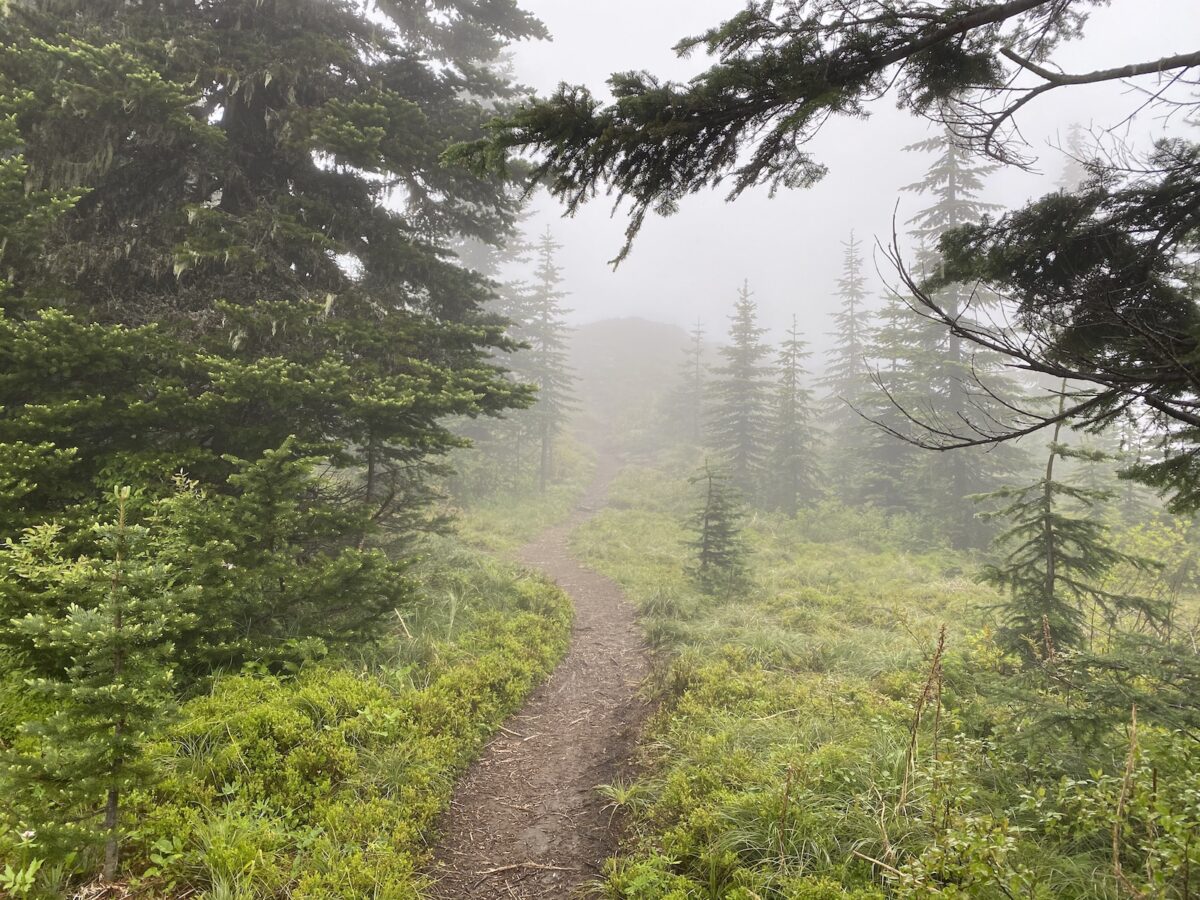 The rain had remained pretty light this whole time, so with the exception of my sweat, and the underbrush rubbing against my pants, I was staying somewhat dry. Knowing this was a short hike, I wasn't too concerned about it. There was also some occasional gust wind on the way up, but I figured I could probably find shelter somewhere in the activation zone of the summit.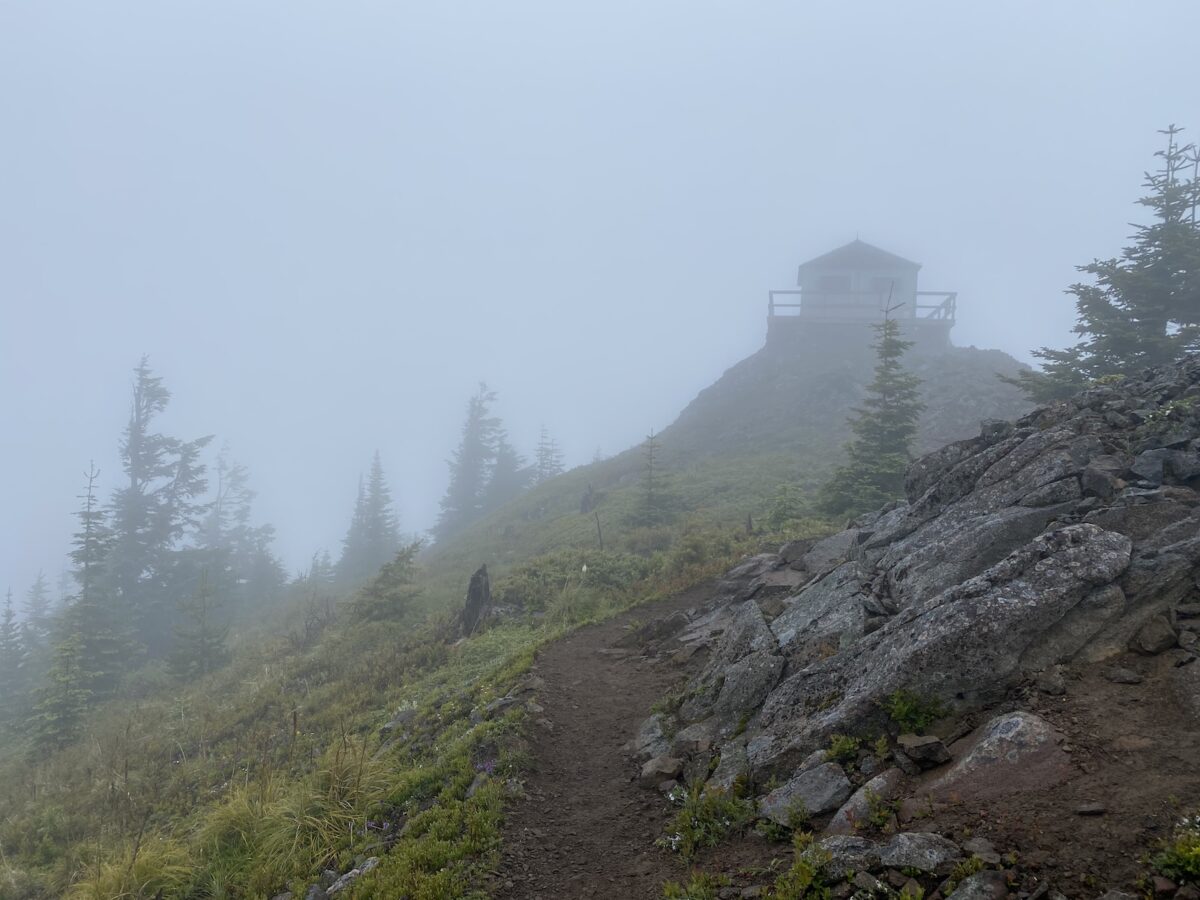 Arriving at the lookout, out of laziness, I made the mistake of putting my insulating layer on over my wet layers. This was fine for a while, but would turn out to be not so great.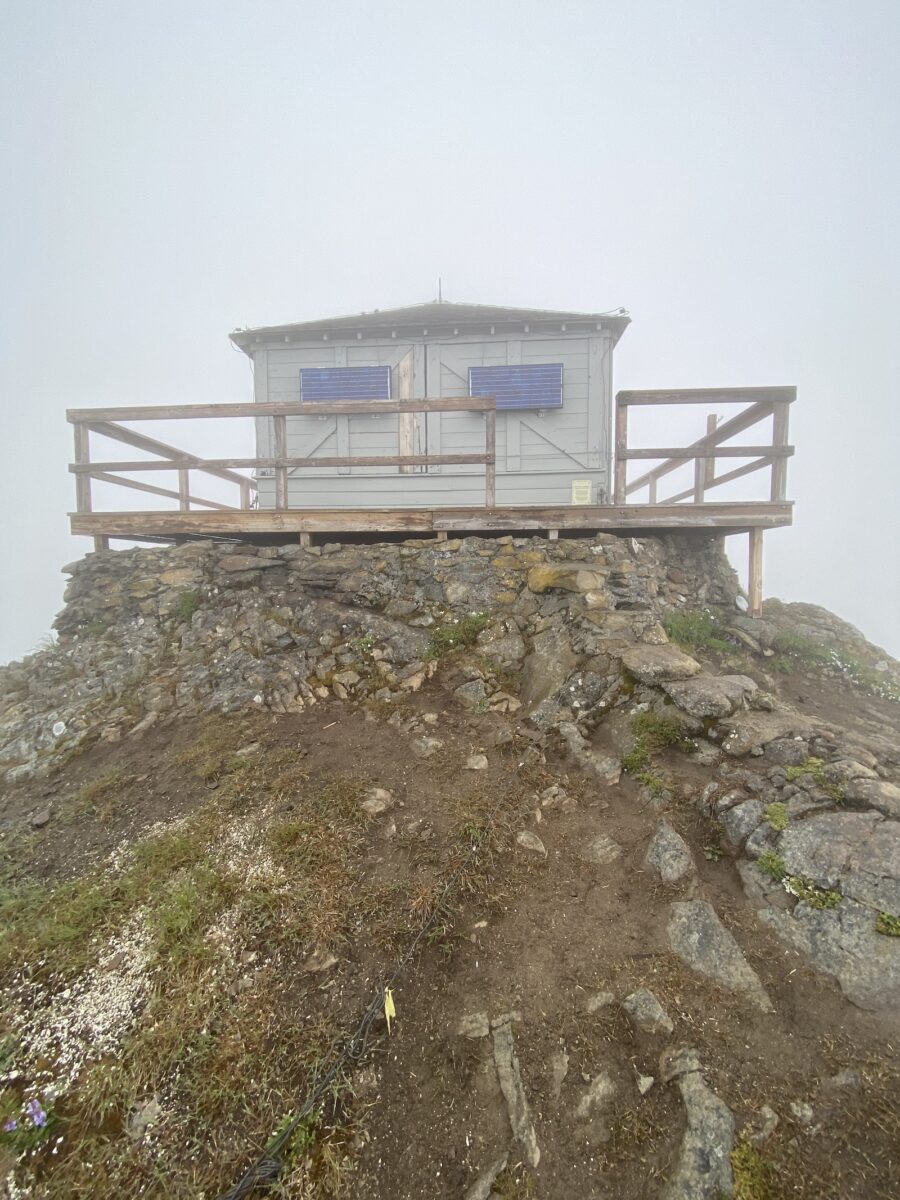 Once I arrived at the lookout, as expected for a Wednesday evening in the rain, the lookout was closed. So I figured out which way the wind was blowing and set my stuff down on the leeward side. This kept me out of the wind and mostly out of the light rain. Since I didn't expect any other visitors in this weather at this time of day, I plopped my stuff down on the deck.
Setup and Operation
Due to the short hike, I'd gone ahead and brought the heavier equipment with me – the FT-891 (and associated power source). I'd be using my linked dipole for this, so I could operate the full 100 watts. I lashed my pole to the railing of the lookout, and ran the legs of the dipole north-south.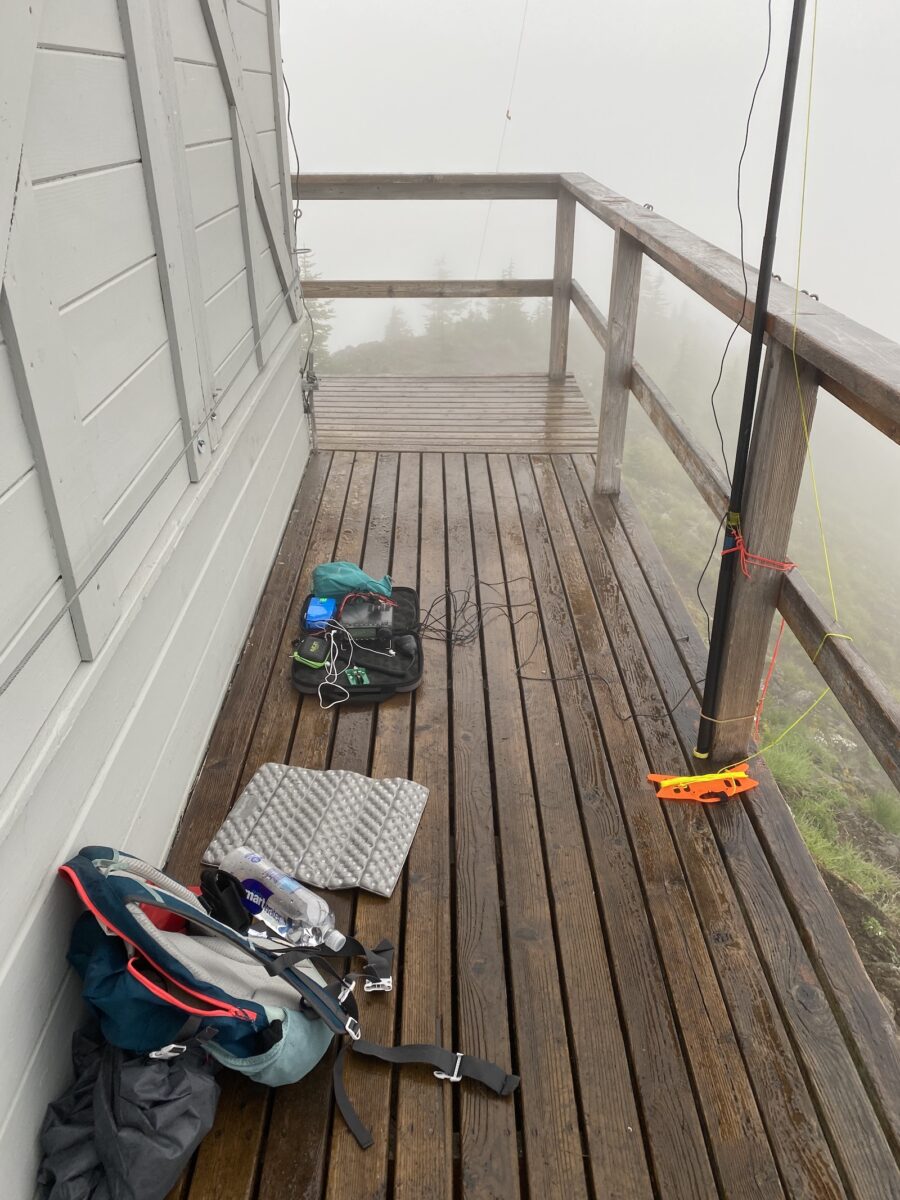 Before getting onto HF, I tried making some local contacts on 2 meters, with my Yaesu VX-6r handheld. I made a couple of contacts there, then started morse code operation on 20 meters. I made 8 contacts there. Somewhere during my 20-meter operation, a father and daughter arrived on the summit with their dog! We spoke briefly, with me in slight disbelief that anyone would be here in the slightly nasty weather at this time of day.
After operating for a while on 20 meters, I realized I was starting to get quite cold—it was becoming difficult to send good CW since my hands were cold (I didn't put them on since my hands were too wet) and I was starting to shiver a little. Should have put my insulating layer on under the wet stuff!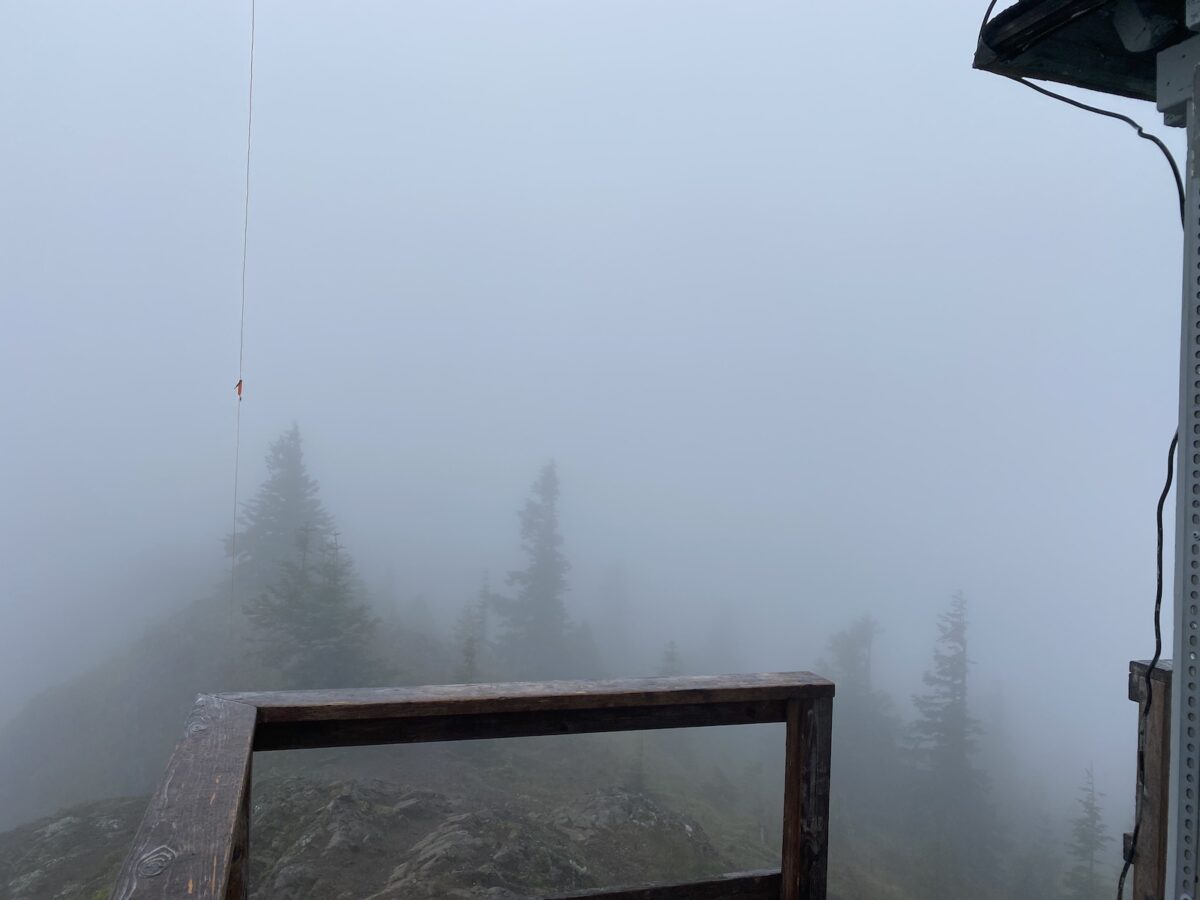 I wanted to pack up before I got too cold, but I wanted to give people a chance to make contact with me on 40 meters. So I spotted myself on 40 meters, SSB, and called CQ. Using my voice was easier than using my cold hands. I didn't get any responses after a few minutes of calling CQ, so I packed up.
I started my hike down and within about 10 minutes, I was warm enough to shed some layers again.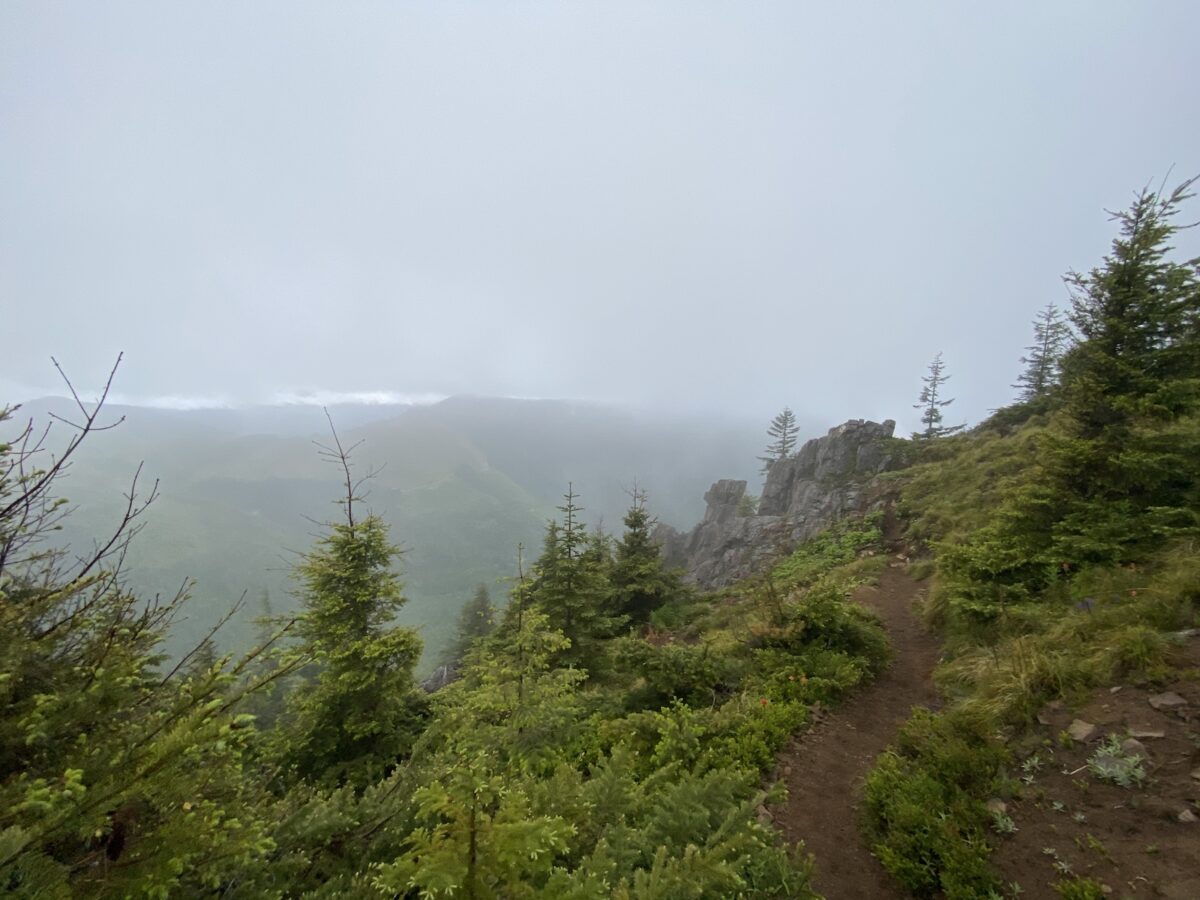 The light sprinkle was on and off most of the way down and I never got very wet. The drive back was uneventful, but right around the time I got on paved roads, the skies finally did open up and unleash a heavy downpour that lasted most of my drive back. Phew—just made it!
Activation Log