Quick Info:
On a backpacking trip with some close friends, I decided to get these two summits. They're locally named "Harry Watkins" and "Gray Rock Dome," so even though they have different SOTA names, that's what I'm calling them here. Getting to the first peak was pretty uneventful, and most of the people on the trip with me actually joined me for that one. I got injured on the the way to the second one and decided to carry on for some crazy reason!
Getting There
I did these summits as part of a backpacking trip, while camping at Upper Gray Rock Lake. But this could be done as a day trip, and would probably end up around 7-8 miles from start to finish. Granted, 3-4 of those miles are pretty rugged.
To be clear about the names of the summits, in SOTA, they are:
W6/NW-069 – Castle Crags Wilderness HP (aka Harry Watkins) and
W6/NW-076 – 7070 (aka Gray Rock Dome).
I much prefer the local names, so that's what I use to refer to them.
After turning off of forest route 26, getting to the trailhead involves about 2.5-3 miles of driving on a pretty rough dirt road. We took a rented Ford Transit van up this road and it was a little dicey. To be sure, I wouldn't want to take anything with low clearance up this dirt road. And if you're unfamiliar with route-finding and/or driving up a dirt road, don't do it. There are various spots the road branches – I followed the most-traveled path and eventually got to the spot most people park—about a quarter mile below the actual trailhead. There's a nasty washout only good off-road vehicles would be able to cross. There were quite a few vehicles parked there, so we actually ended up backing down the road quite a distance to park. Then we started our hike.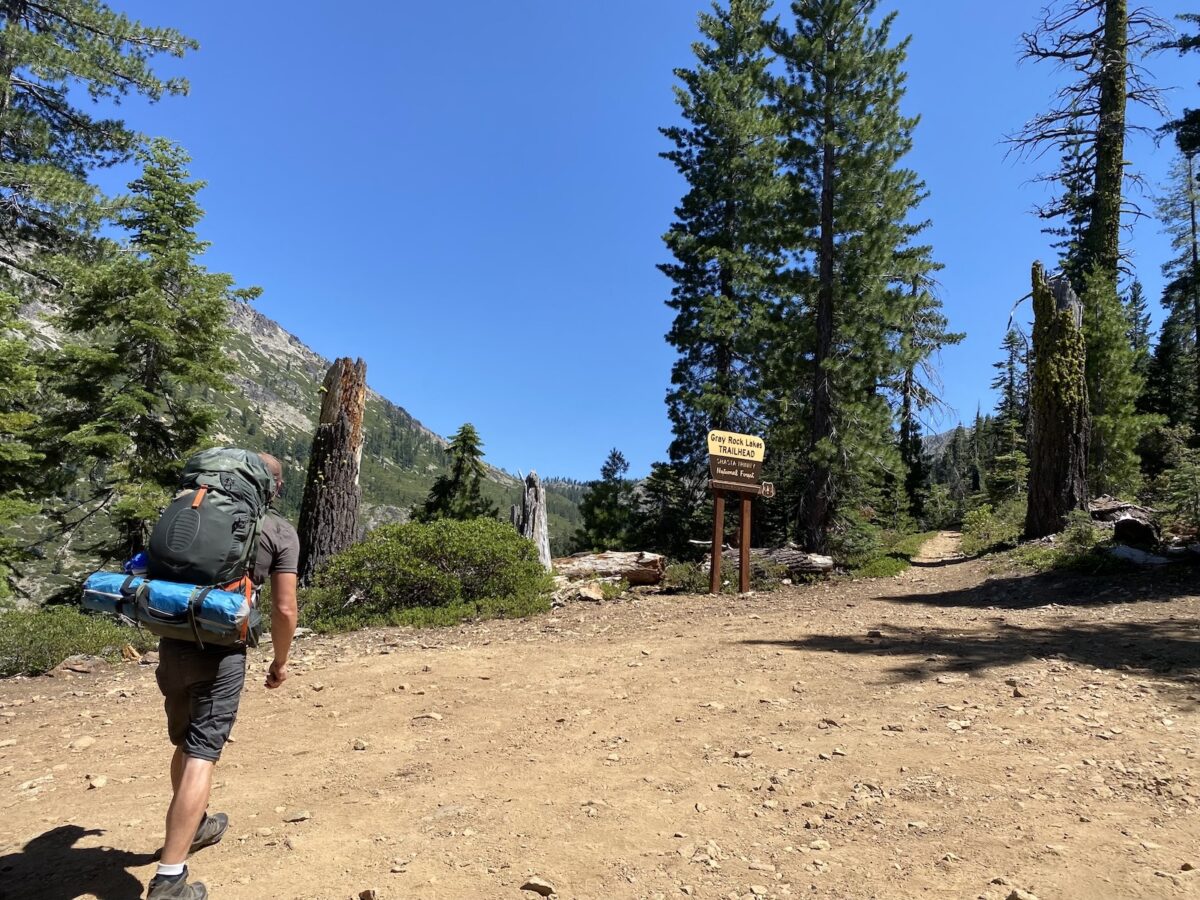 Our hike to Upper Gray Rock Lake, where we were camping, was pretty straightforward—brutal at times with its steepness in the hot summer sun but not too bad overall.
Now I'll jump straight ahead to my hike to the peaks, which came the next day.
Hike to Harry Watkins
We set out from our camping area around 7:30am or so. There's no trail or anything, so I did route-finding to head up toward the col between our goal summit and a sub-summit. Once out of the forested section near the beginning, we encountered our first steep (class 2) section. And we got our first view of Mount Shasta.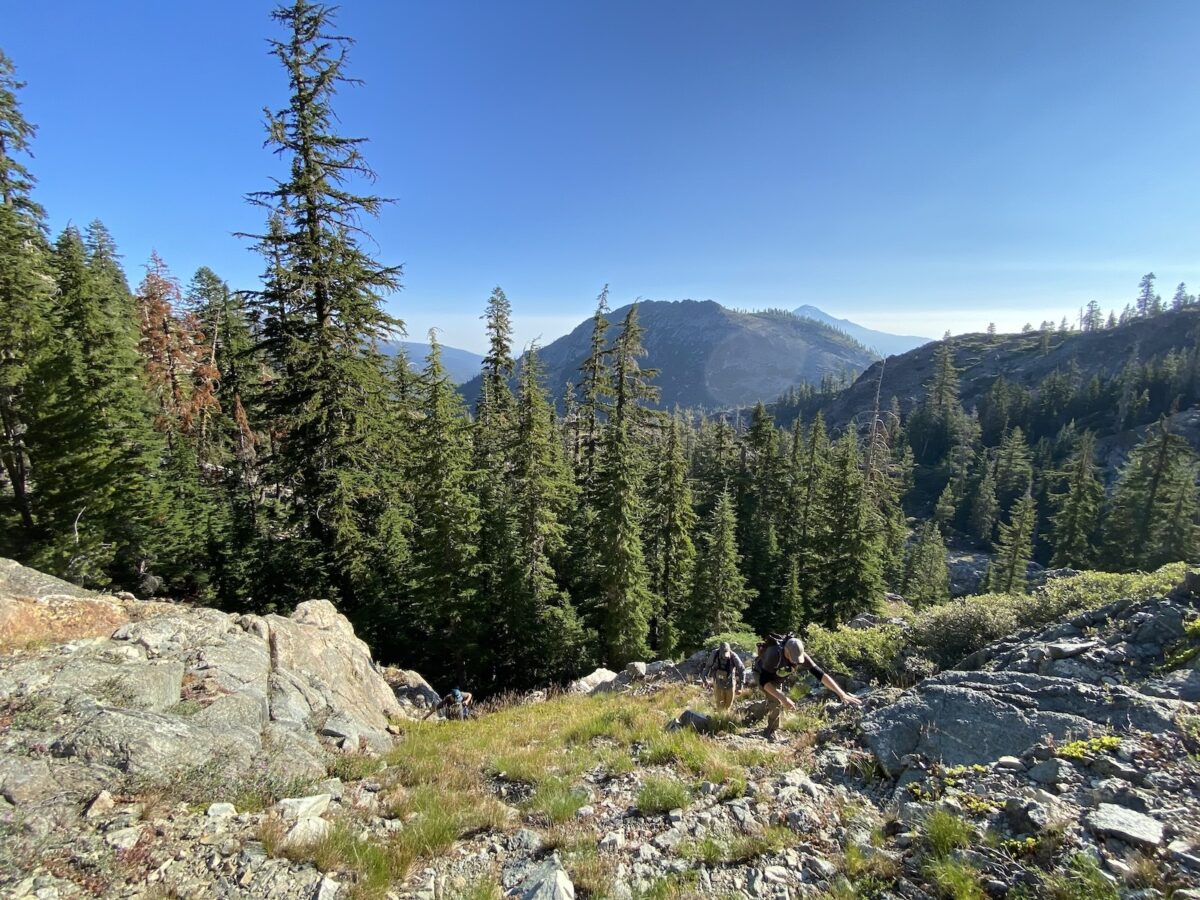 I tried to avoid cliffs and loose-looking sections, heading left of the low point of the col, into the trees near the top. At one point, we crossed a fairly solid talus slope, before one last steep climb on somewhat loose dirt. We stayed in the trees along the ridge to the summit, in order to avoid bushwhacking through manzanita. Before long, we were at the top!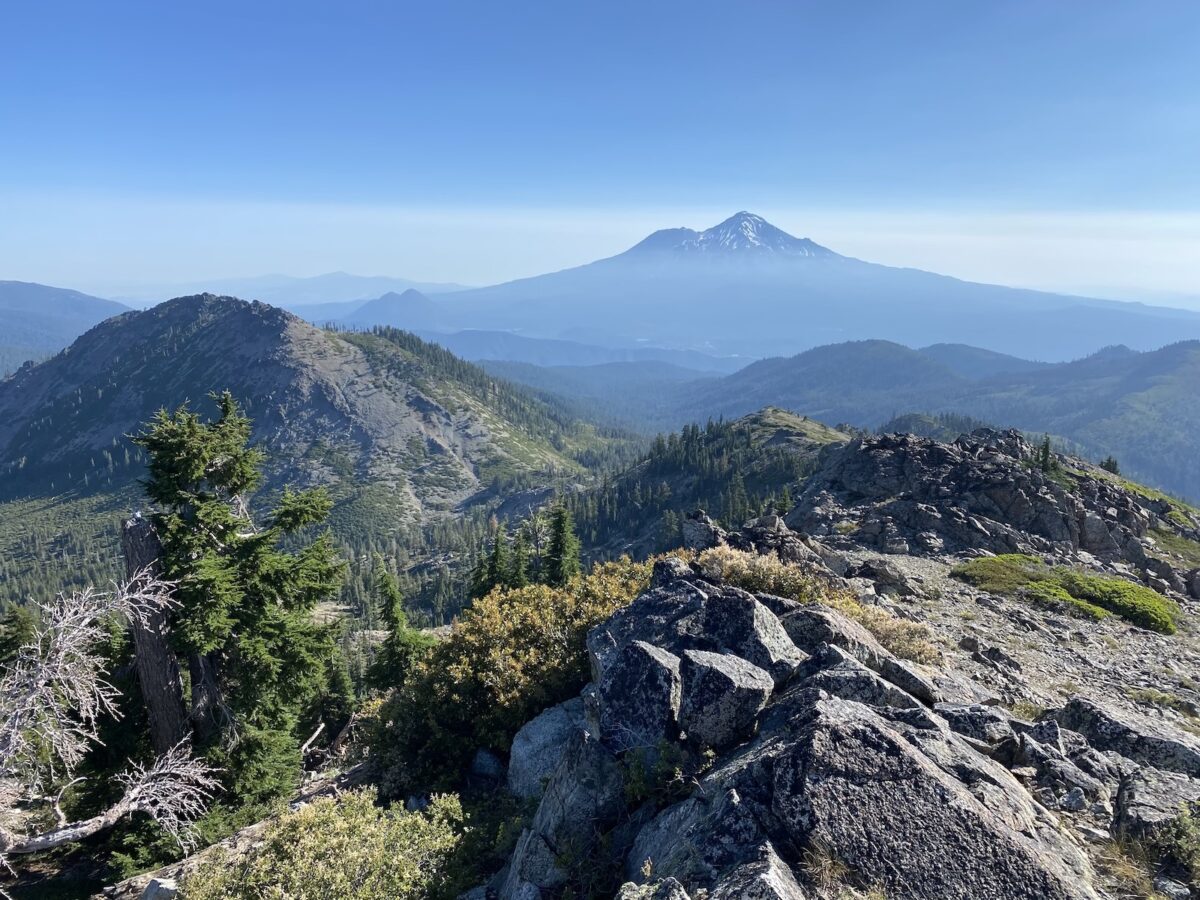 I didn't capture this in photos, but Harry Watkins has two points that look like they're competing for highest. The west one seems to be a bit lower than the east one, which is marked on the map as the high point. They're really close to each other, so it's all really kinda one point.
After taking a moment to enjoy the views, including the Castle Crags for which the Wilderness was named, I proceeded to get my antenna set up.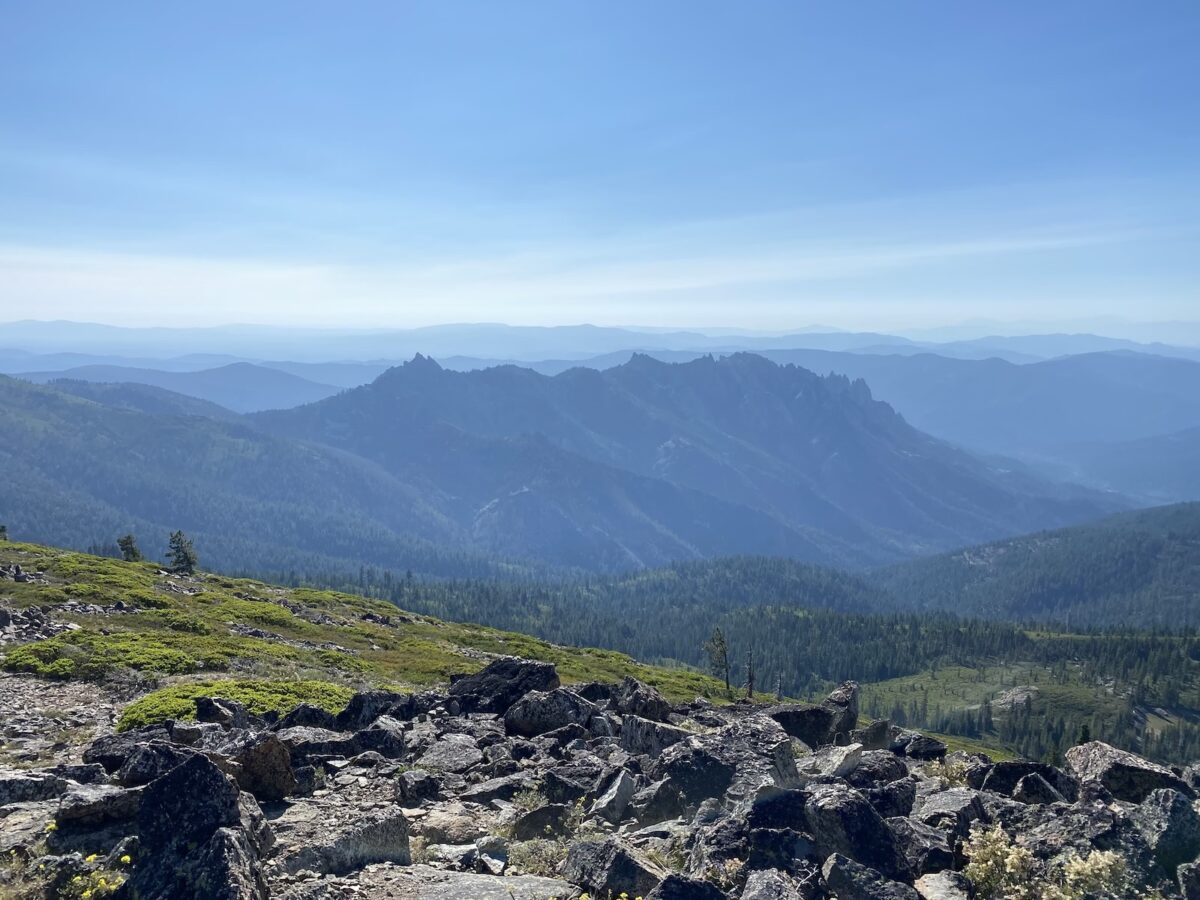 Operation on Harry Watkins
I popped up my K6ARK/WS0TA Tri-Band EFHW in pretty short order, getting one of my friends to help me. Within a few minutes I was on the air.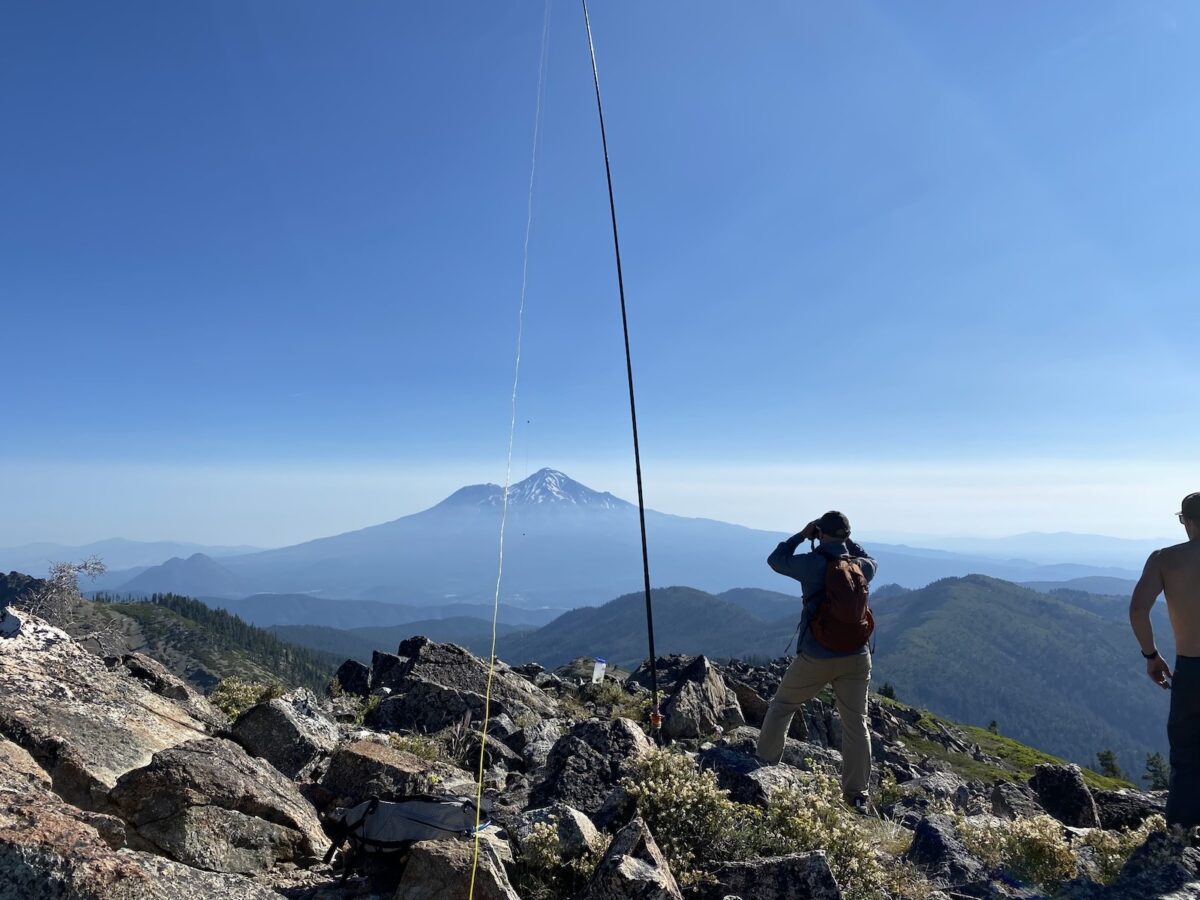 My first contact was a summit-to-summit contact with K7DJL, on a summit up in Idaho. Then I put a spot out on 20 meters. I got several contacts there before moving on to 40 meters and doing the same.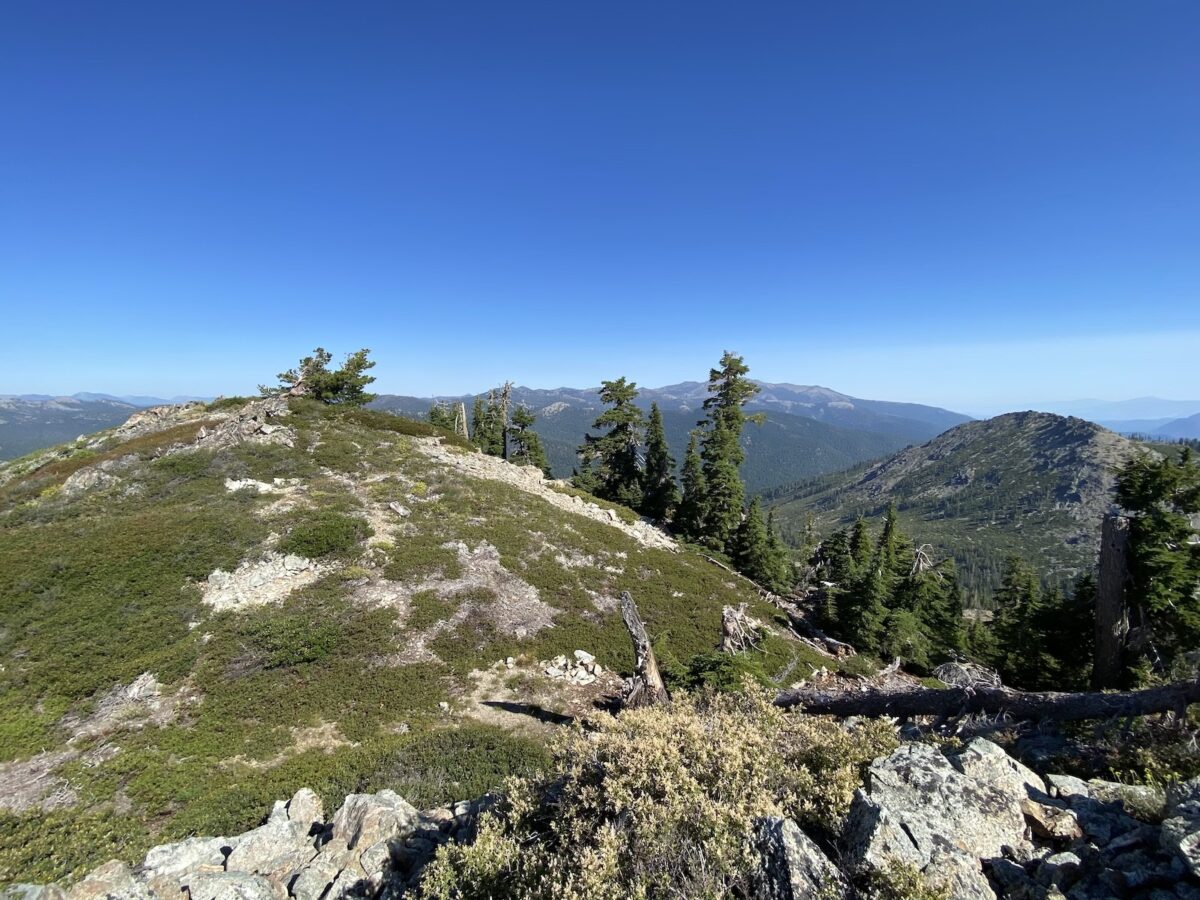 After operating HF, I figured I'd turn my HT on and see if I could make a contact or two on VHF. Sure enough, I actually heard Jordan, WC6J, who I'd already made contact with on 20 meters, on a summit about 98 miles away. We had a brief chat, enjoying a nice, long-range VHF contact.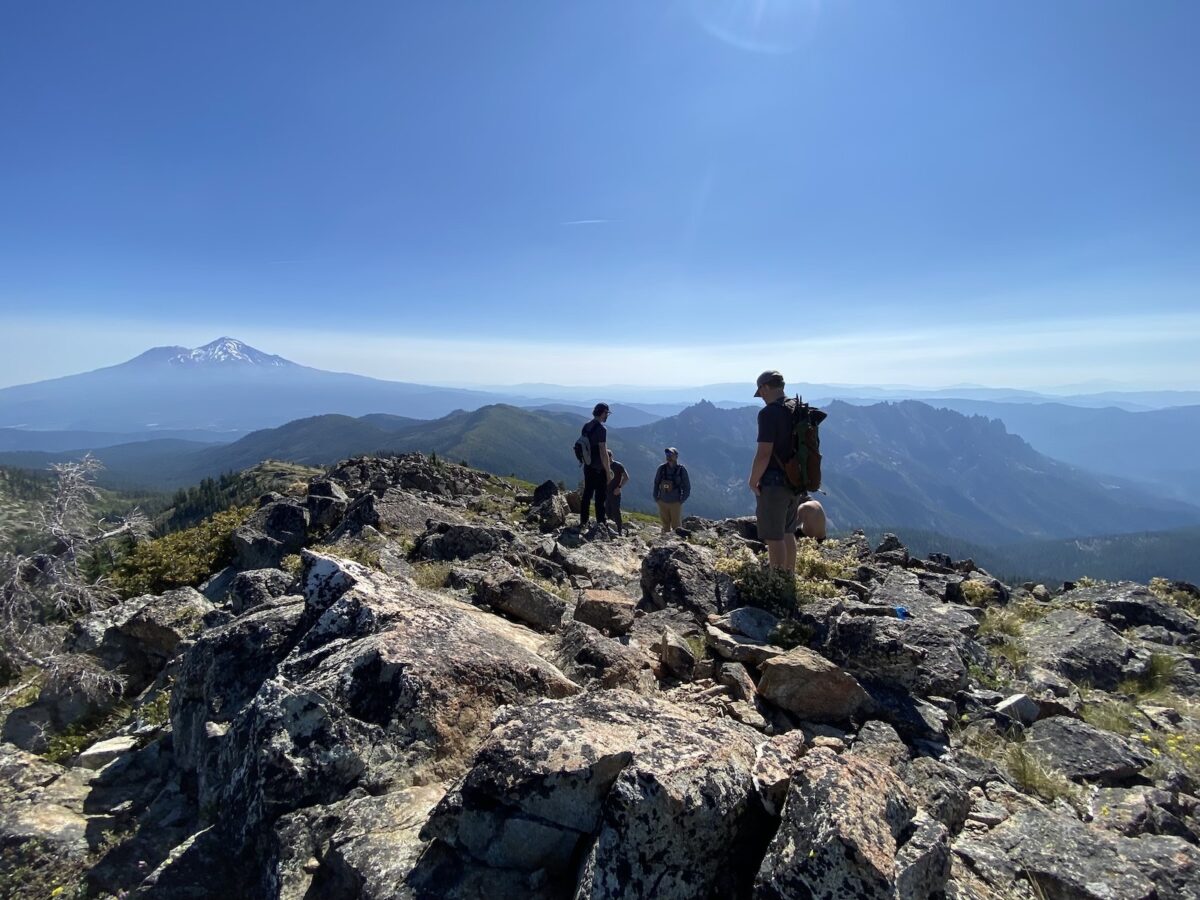 Not wanting to keep my friends waiting around too much, I packed up and we got on our way, heading down the other side of the summit ridge, toward Gray Rock Dome – my second summit for the day.
Hike to Gray Rock Dome
The group consensus was that most of the guys would join me for Harry Watkins, but then they'd back to camp while I carried on to Gray Rock Dome. So, part way down the ridge, they took a turn to descend a chute that would lead them on a pretty efficient course back to Upper Gray Rock Lake.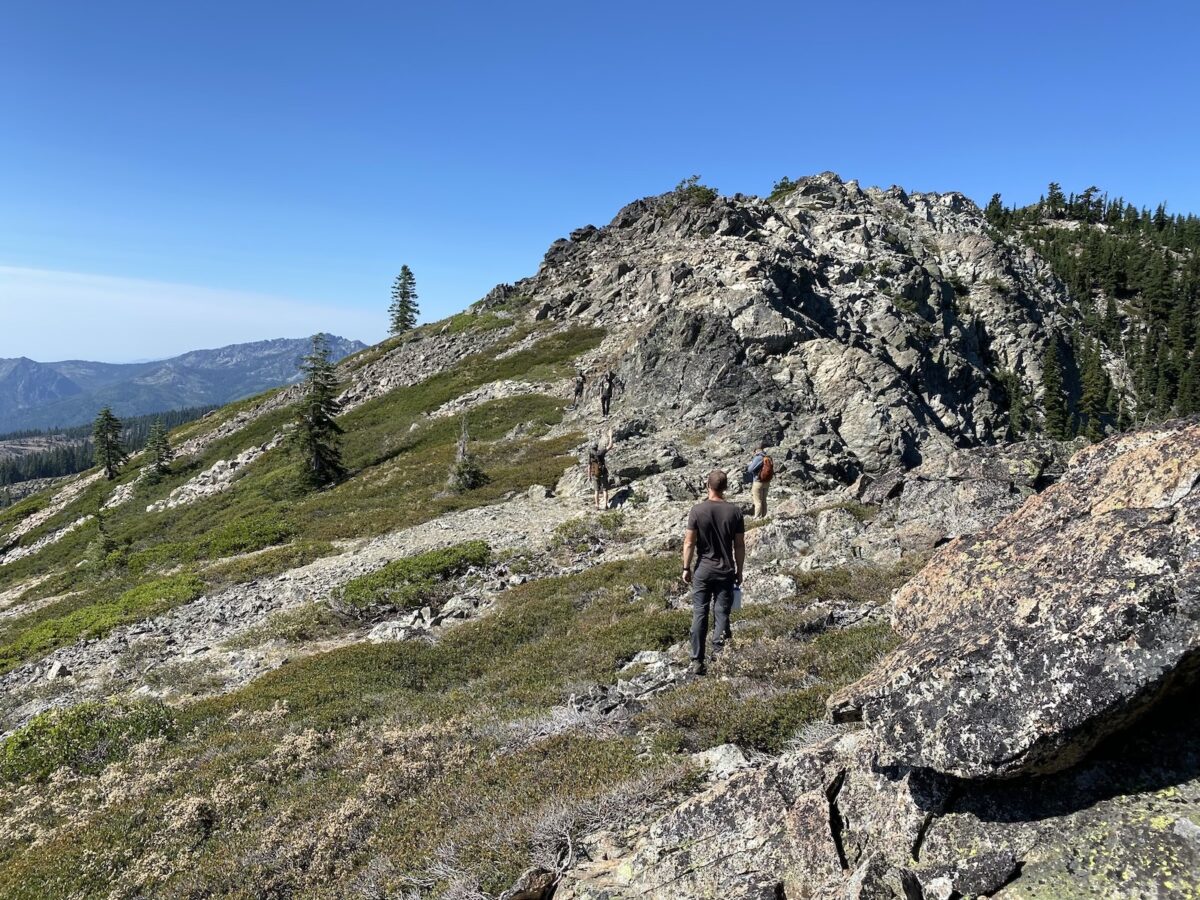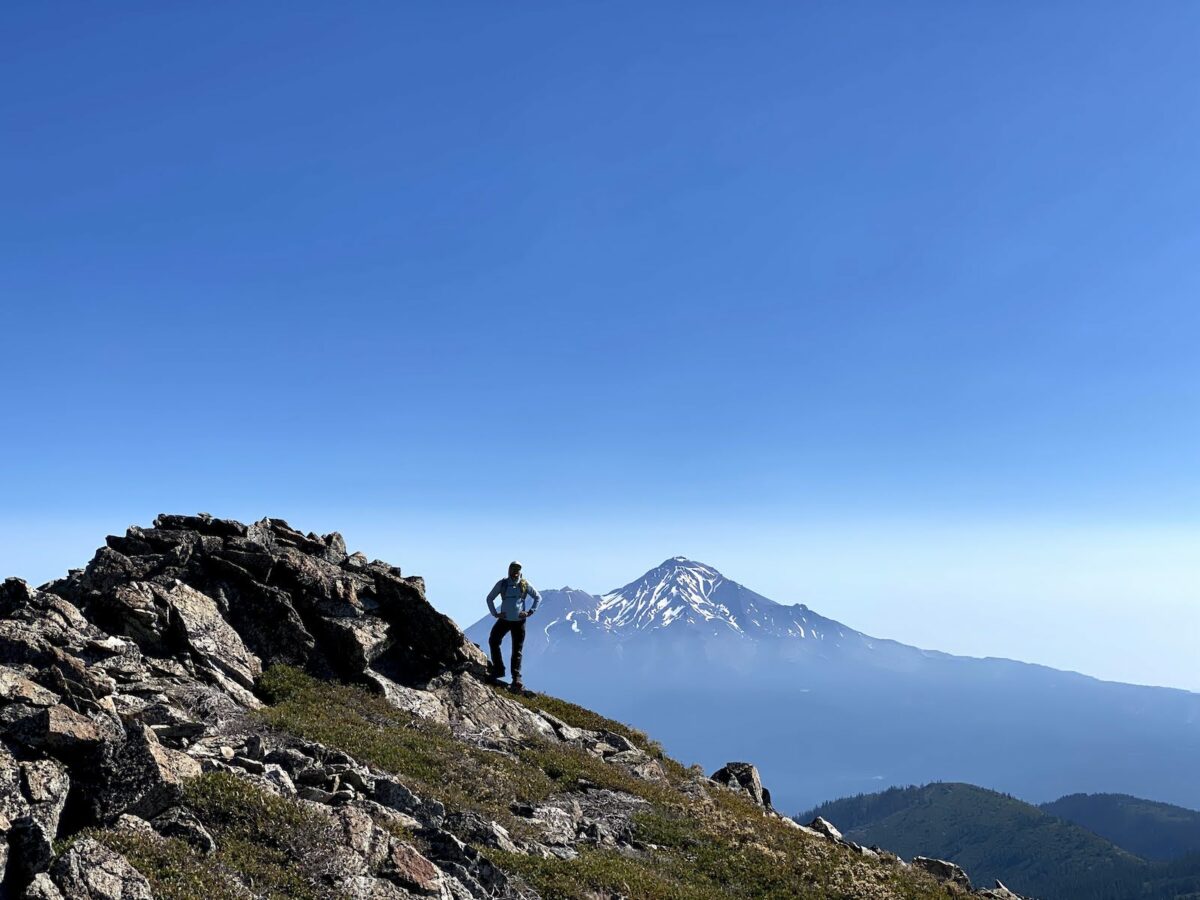 I gave the rest of the crew my estimated time and continued along the ridge. What a beautiful off-trail walk! While the terrain was pretty rugged and thus the going pretty slow, I was definitely enjoying myself.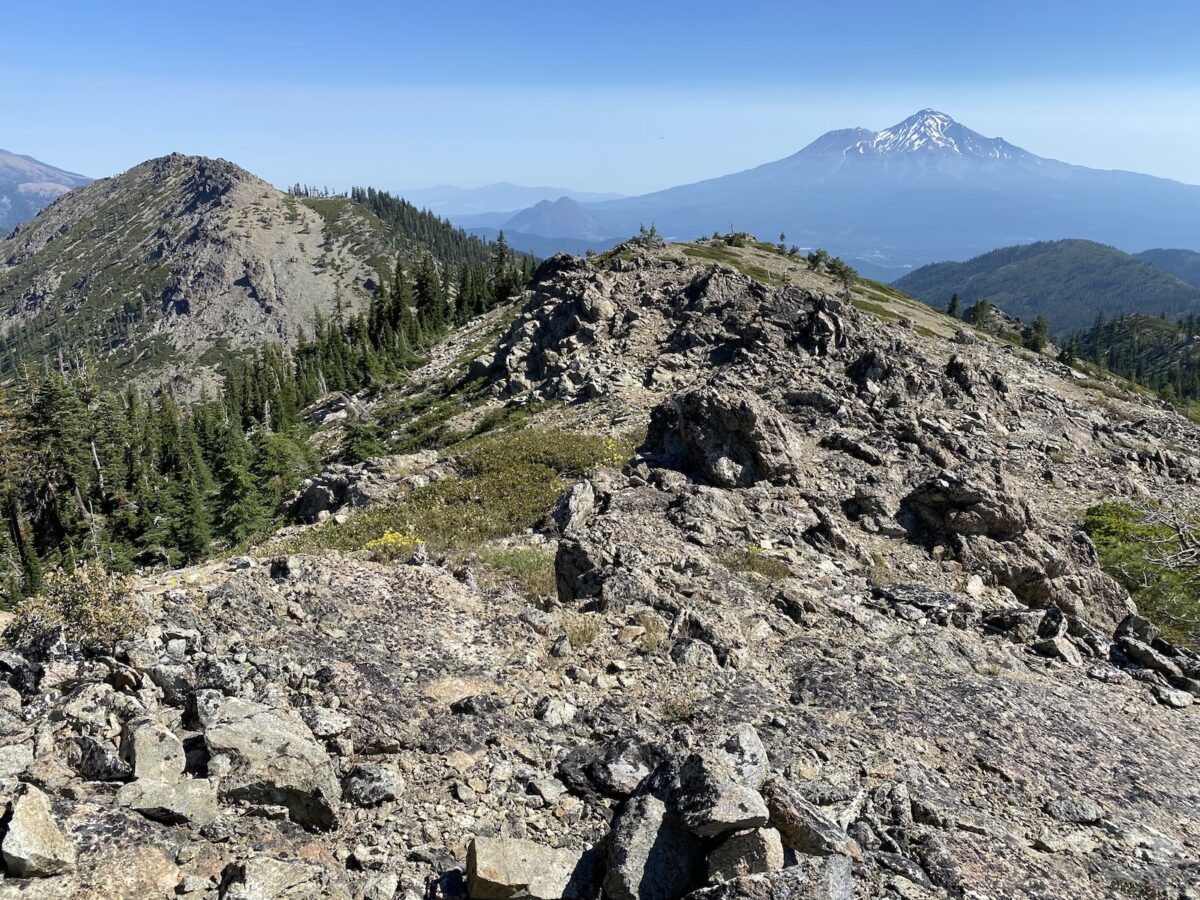 As I'd guessed, the ridge wasn't a gentle downhill slope for very long – I knew it had to drop some serious elevation in order to get to the saddle between Harry Watkins and Gray Rock Dome. Sure enough, I reached a sort of precipice where the terrain got steeper. But what a view!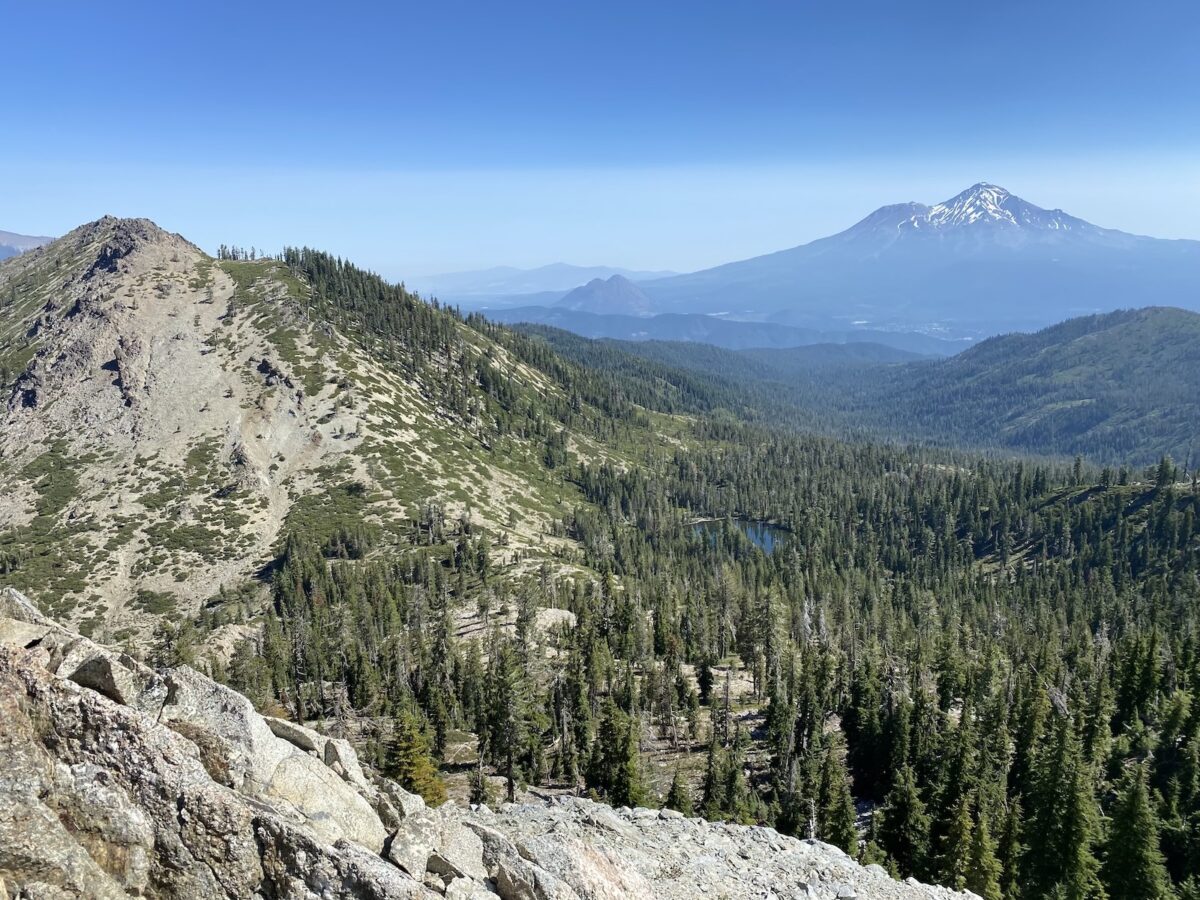 Getting down the steep part of the terrain was a bit tricky—it was steep and loose. But I made it down OK.
Injury
After making it down the steep, loose slope, I was feeling pretty good – it had been a bit dicey in a couple of spots. The terrain was starting to flatten out a bit, but was still downhill. I was looking around a lot to make sure I stayed on-course, not always paying attention to the terrain right under my feet.
I slipped on a small (3-4in) log next to a tree. This log didn't have any branches sticking out of it (they'd all been broken off). The way my foot rolled on this log was such that it turned all forward motion into downward motion, propelling me to the ground faster than if I had simply fallen. I usually "fall well," but not this time. This might all have been fine, but my posterior landed right on the edge of a rock. Instant, unbearable pain.
There are few times in my life that I've experienced so much pain it made me uncontrollably yell out. This was one of those times. And not only that, I had strong waves of nausea washing over me. I rolled over onto my side and tried not to vomit.
After about a minute, I was able to start thinking. And the pain wasn't quite as all-consuming anymore. I very slowly rolled so I was facing the ground, starting to assess the actual condition of my body. I laid there for a while longer.
Finally, I decided I'd try to get up. I was more than a little worried I wouldn't be able to do so, and that I'd need to call for help. Fortunately, that turned out not to be the case. I was able to get up. I walked a few steps – it was painful, but not unbearably so.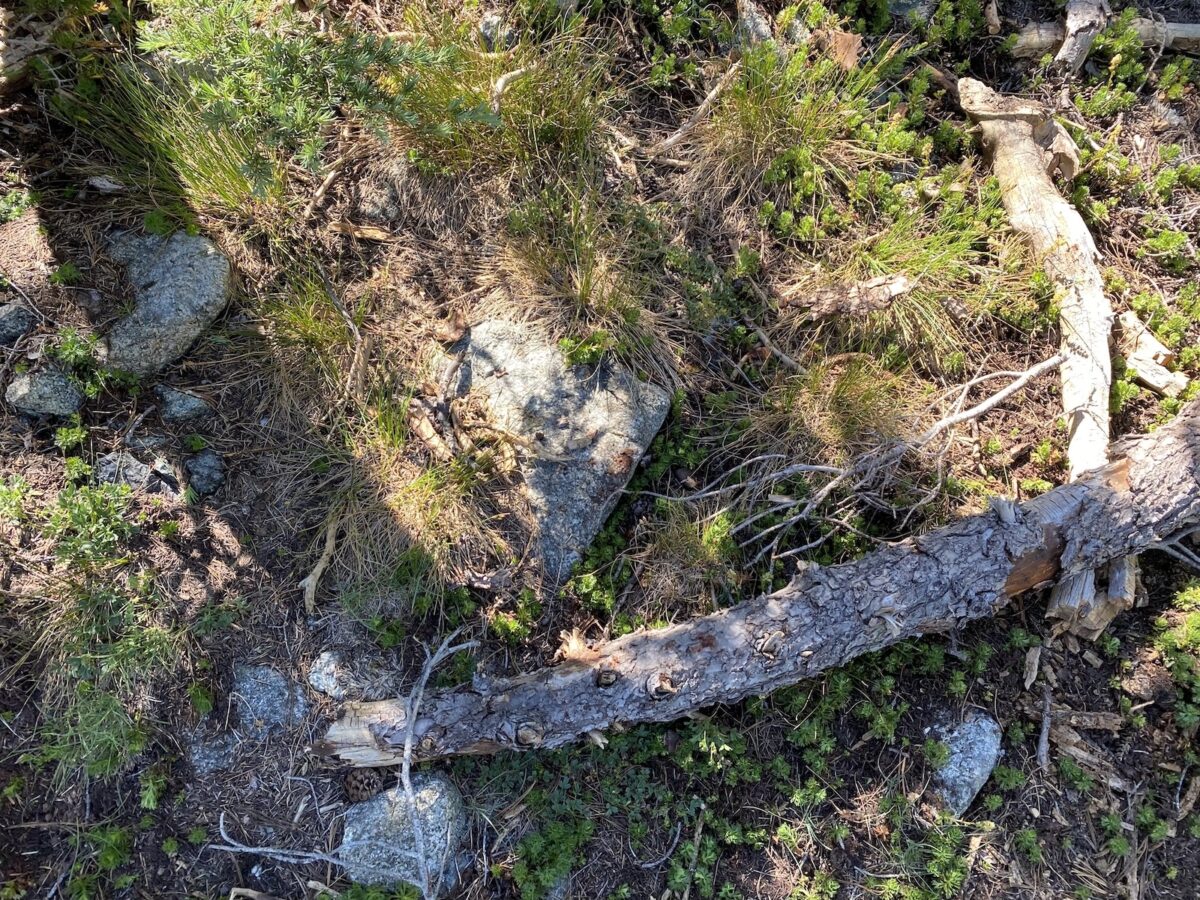 I resolved to carry on. Not necessarily to the next summit, but I had to at least get myself back to camp, which would require descending to the saddle anyway.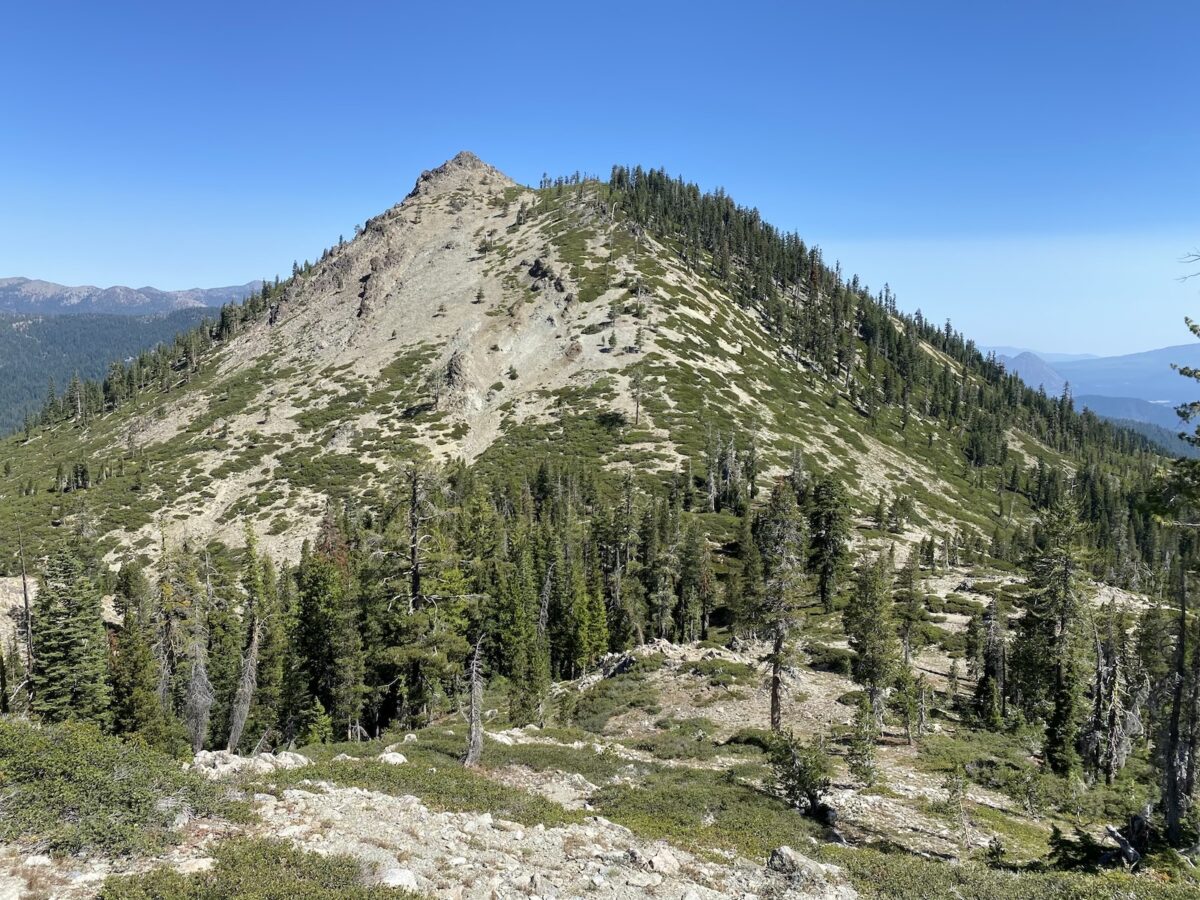 The rest of the descent to the saddle was very straightforward, if painful. I (of course) made very sure to watch my step. As I descended, I thought about whether I should carry on to Gray Rock Dome, which lie just ahead of me, and kind of taunted me.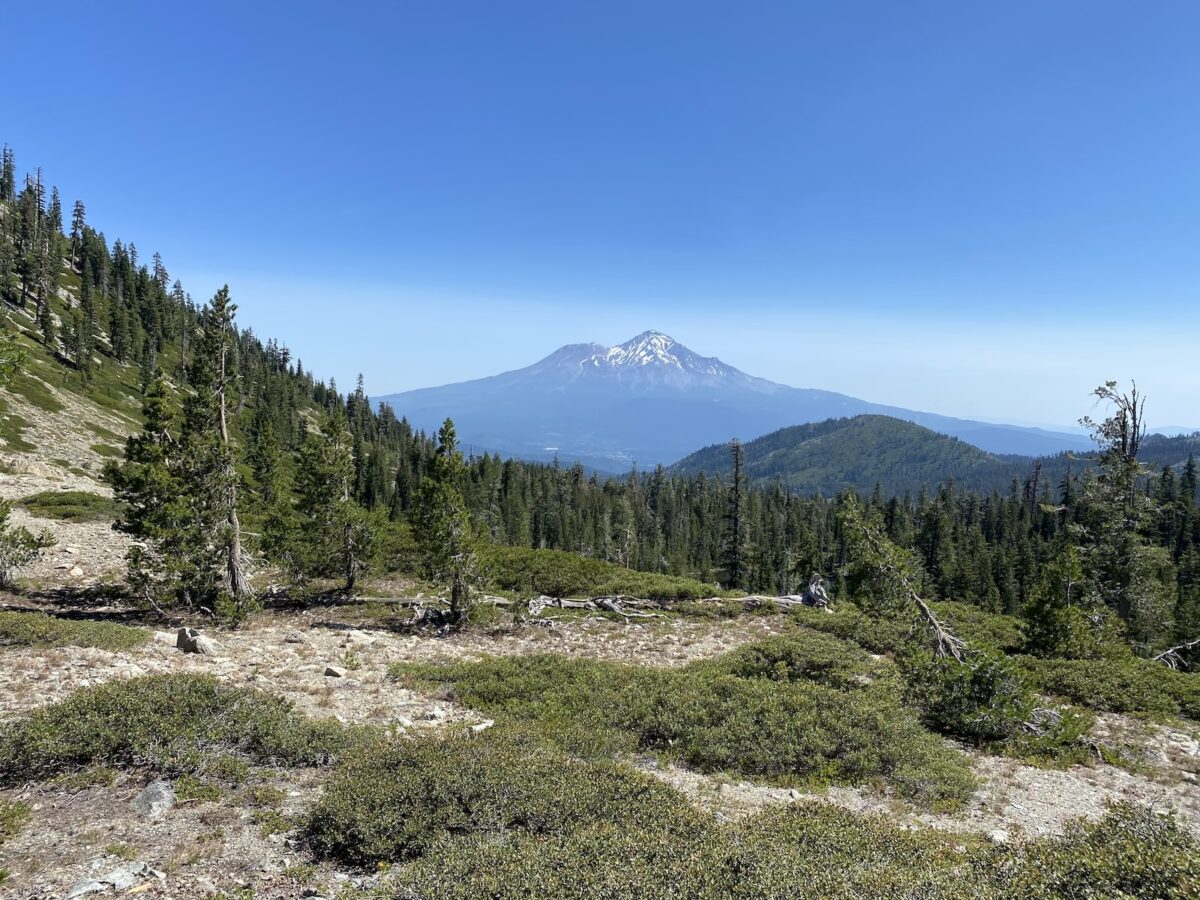 Now, the sane and logical decision to make at this moment would probably have been to head straight back to camp. And if I'd been able to be in touch with anyone back at camp, that's probably what they would have asked me to do. But that's not what I did. I carried on. I knew I had a decent chunk of steep elevation gain in front of me, but I figured I'd take it a step at a time. Knowing, of course, that I'd also still have to endure the descent and hike back to camp.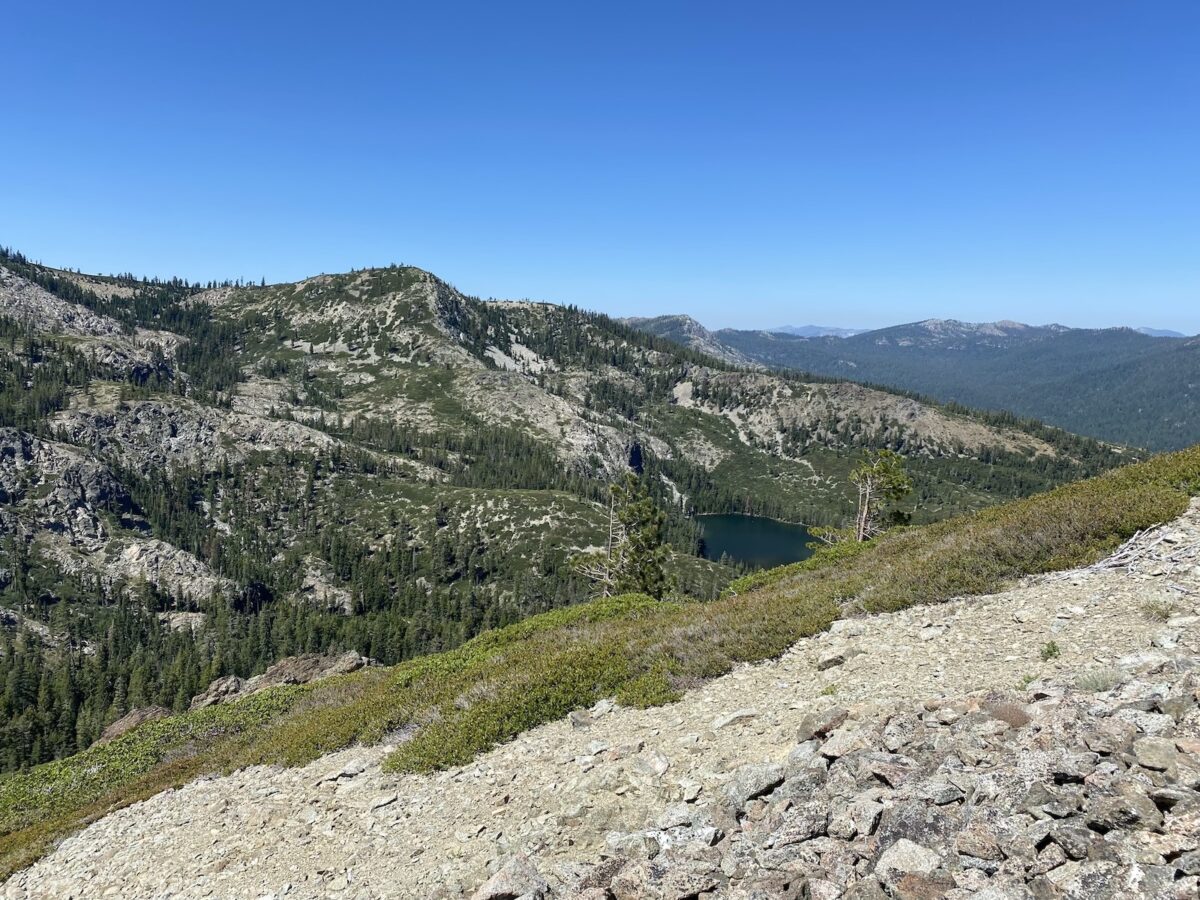 The route was pretty steep, and loose in places, but not complicated. There were probably wrong choices to be made that would've made the route harder, but I mostly stayed left of center and things worked pretty well.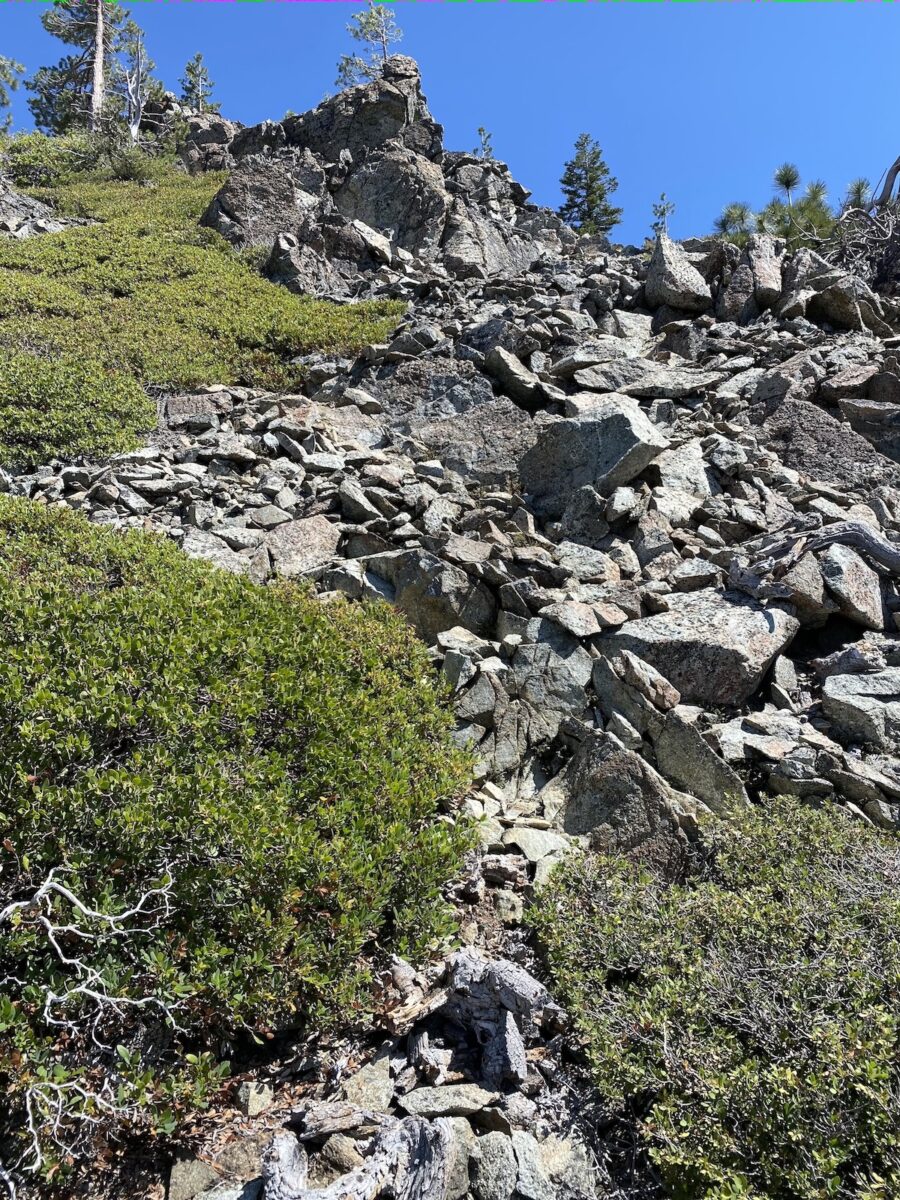 I took things easy, stopping many, many times to assess my state, and re-think whether I should keep going. Each time, I decided I'd keep going. It definitely hurt to walk, especially the steeper parts and more forceful uphill steps. But I kept on, finally arriving at the summit plateau.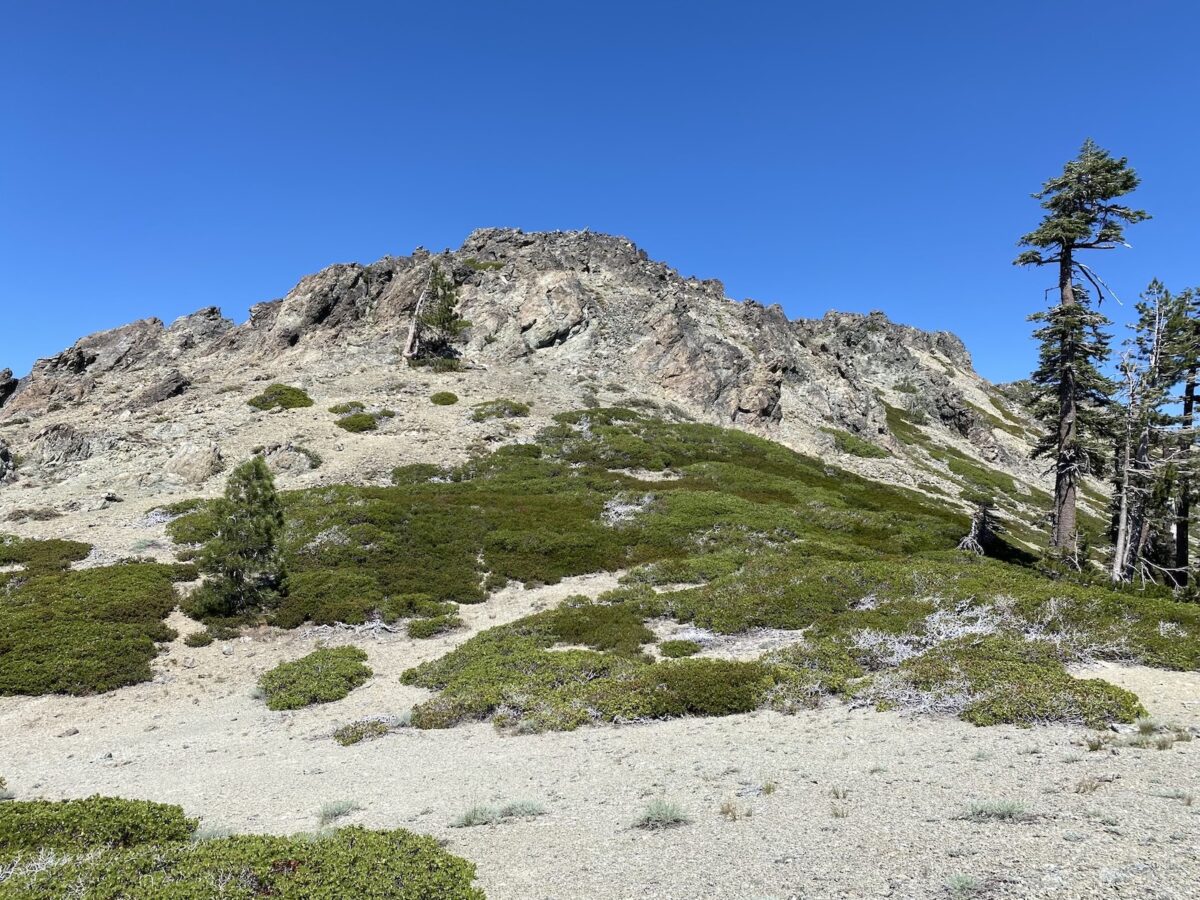 After taking a minute to assess the next step of my route, I went up a chute toward the left side of the summit ridge. My original plan had been to traverse the knife-edge ridge until getting to the true summit. But in my injured, very painful state, I simply climbed until I was well within the required SOTA Activation Zone elevation.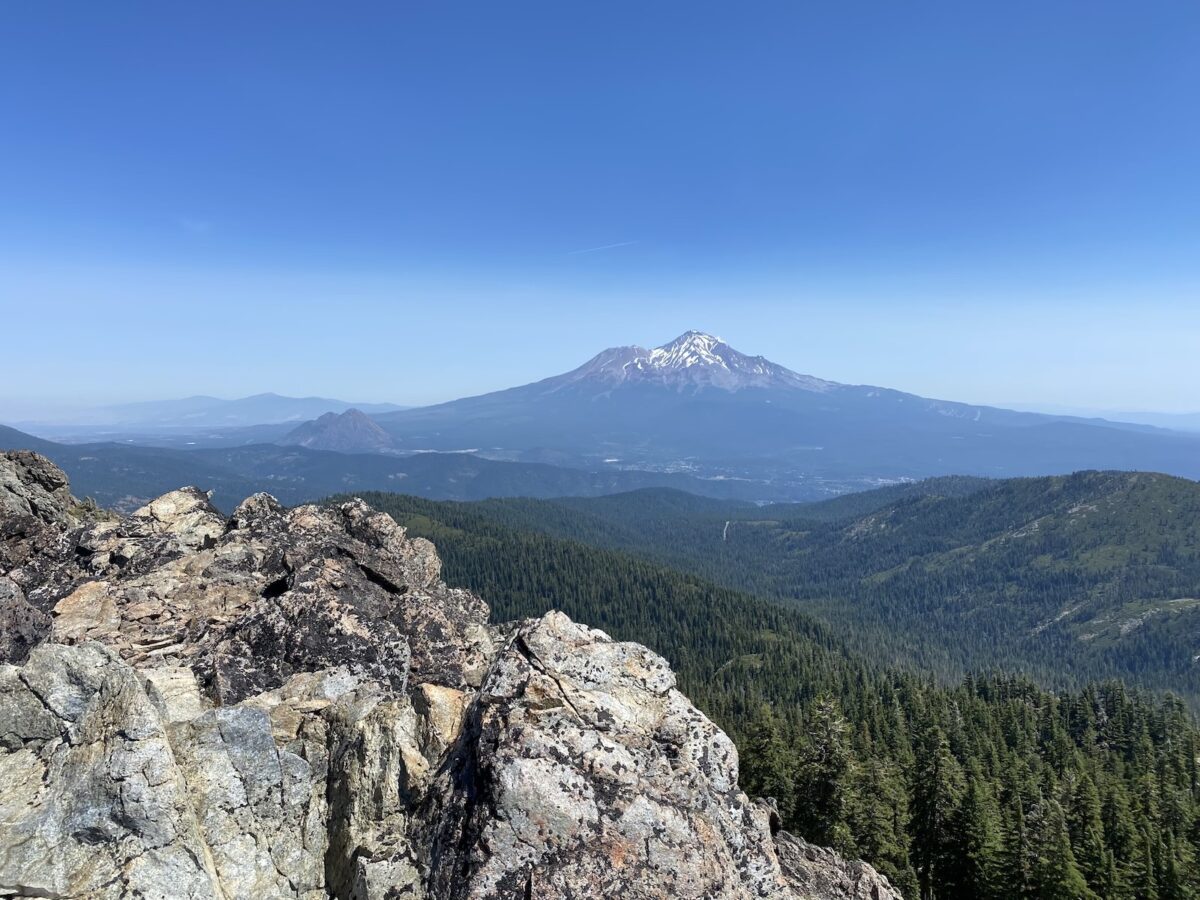 Operation on Gray Rock Dome
Upon arrival where I decided I'd operate, I stood and ate part of my lunch. I was afraid to sit down. Then, I figured I'd try to get all my contacts on the HT, and avoid having to set up and sit down to operate HF. I made a couple of contacts – one in the local area, one a bit farther away. And there was a guy on Mount Diablo, about 232 miles away, that I could hear pretty well, but he couldn't hear me well, at first. Then he turned his beam north and we managed to make contact! We had to try a few times, because he had someone jamming him nearby (to him), but we made the exchange. I think this is a VHF distance record for me. I'd hoped to make a few more contacts on 146.52, but his signal was dominating my reception. I decided to go ahead and set up my HF antenna – it's not that hard!
I stuck my mast into some rocks and started unwinding my antenna. To make things easy on myself, I just set it up for 20-meter operation. If I hadn't been in pain, I would've set it up for all three bands, giving a chance to as many chasers as possible. As it was, it was much easier to deploy 30-ish feet of wire along a rugged knife-edge ridge, than 45-ish feet.
I sat down as carefully as possible and sent out a spot on 20 meters. I quickly made 5 contacts there before hearing no more callers. Without further ado, I packed up and began the journey back to camp.
Taking things nice and slow, the journey back was difficult, but without incident. It did require some pretty good route-finding once getting into the woods, but I didn't ever have to backtrack. I even managed to do a photo with a smile after down-climbing a short steep section!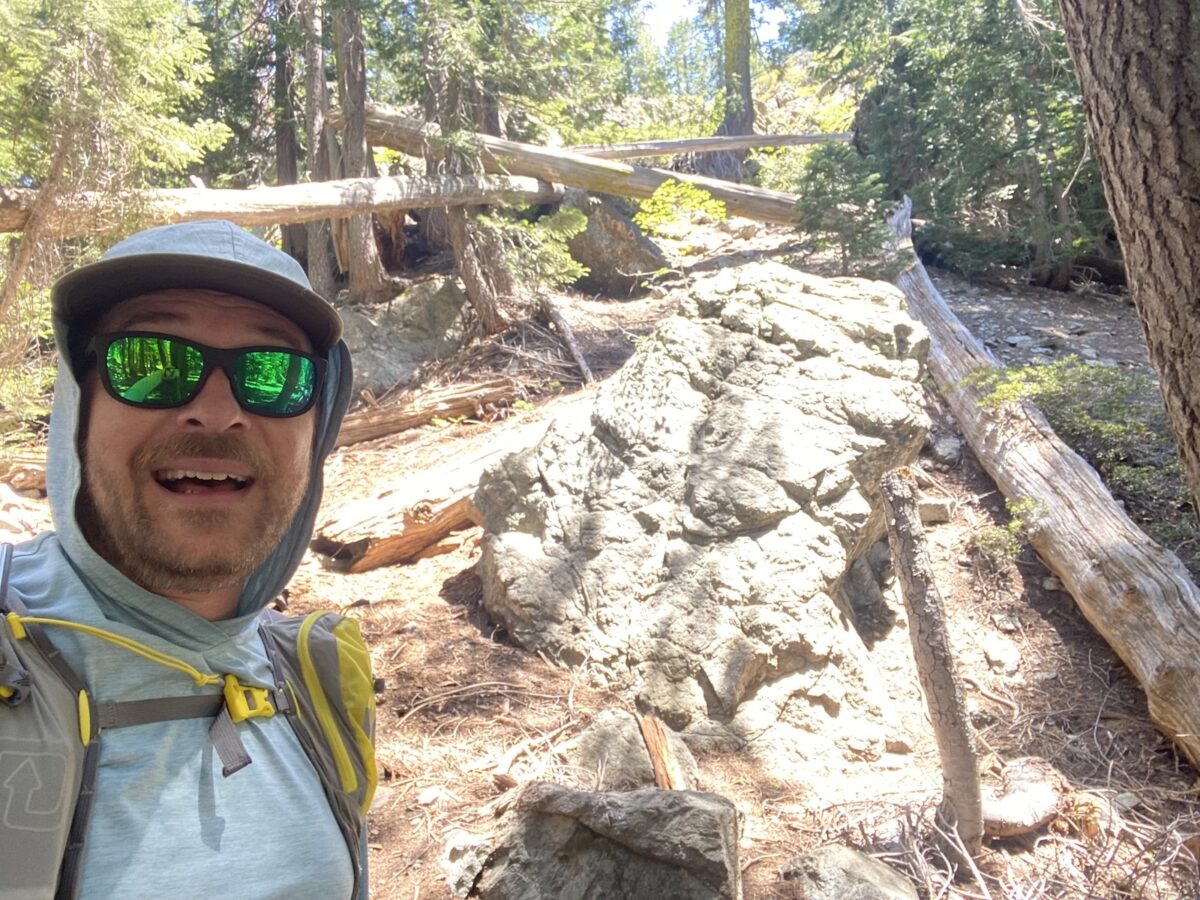 Activation Log – Harry Watkins
Activation Log – Gray Rock Dome
Injury Follow-up
So, what became of that injury to my backside? I went and got x-rays after getting home, and fortunately, nothing was broken! But I did have "extensive soft tissue damage and hematoma." At time of writing, about a month later, I've been able to start lying on my back, and I can sit somewhat normally now, but it still hurts if I sit for long periods of time. But it keeps getting better every day!