Quick Info:
| | |
| --- | --- |
| Activation Date: 20 June 2020 | |
| Transport: Hike | Distance: 1.5–11 miles |
| Elev. Gain: 1200–3400 feet | Time: 1.5–5 hours |
| Rig(s): MTR-3B | Bands: 40, 30, 20m CW, 2m FM |
| Antenna(s): Tri-band EFHW | Antenna Support: None |
| RF Noise: Low | Cell Service: Fair (T-Mobile) |
It's good to get out and get some fresh air once in a while. Even if the air is a little thin! Having been invited by Adam K6ARK on a trip to the Eastern Sierra was something I just couldn't turn down. The plan was to hike up from the Onion Valley trailhead and camp at a lake, and do a few summits while we're up there. We ended up just doing this one, but a fun one it was!
Getting There
We were all coming from different places (and couldn't go together anyway, due to "social distancing"). I drove over from the SF Bay Area, with Adam and others driving up from SoCal. Our trip was Friday thru Sunday, but I left Thursday night in order to get a head-start on the 7+ hour drive. I went via Sonora Pass and actually slept there, at ~9600 feet, in order to start acclimating to the altitude. I woke with a pretty strong headache – mission accomplished!
After enjoying a beautiful sunrise in the mountains, I hit the road again.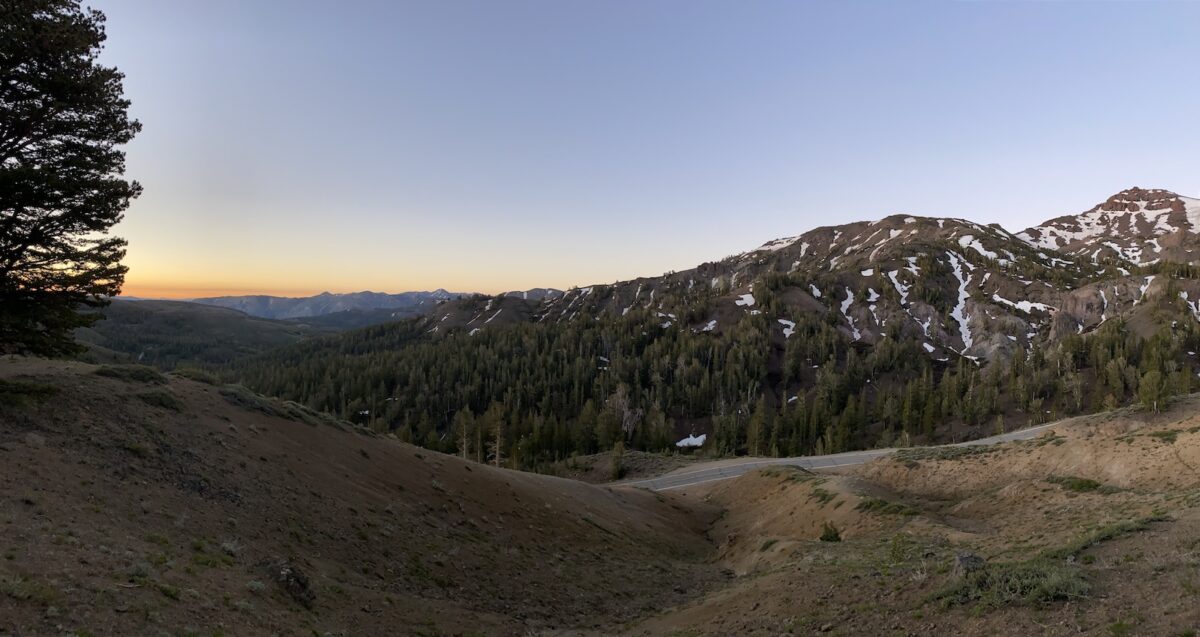 I stopped at an excellent spot for a coffee and breakfast sandwich, the "Latte Da Cafe" in Lee Vining. And I'd originally planned on stopping at Erick Schat's Bakery in Bishop, but on Adam's advice, I avoided that tourist destination and got myself some beyond-excellent sandwiches at Great Basin Bakery, just down the street.
Continuing south on Highway 395 (what a beautiful road!), I got to the town of Independence, turned right on Market Street, which shortly thereafter turns into Onion Valley Road. Following that all the way to the top, I made it to the parking area for the trailhead. And boy, it was full! I did manage to find a spot after a little bit of looking. I met up with Adam and crew, then we hiked to camp!
The Hike
Since we were camping, we started our hike at the lake. If you're doing this as a day trip, you've got a longer (11-ish miles) hike ahead of you. Ours ended up being around 4.5 miles or so.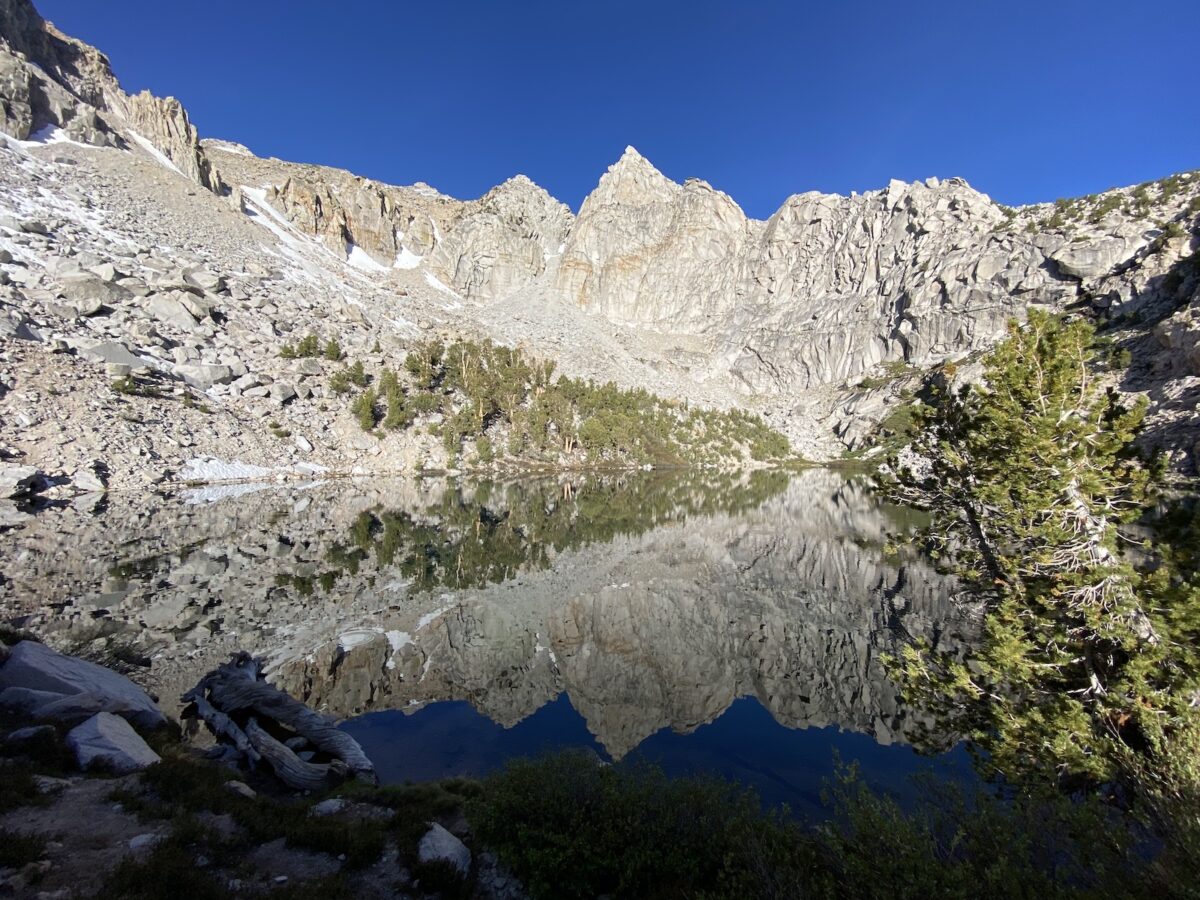 Starting out with a gentle scramble up to the Kearsarge Pass Trail, we could tell it was going to be a fine day. Our plan was to do Mount Gould, then see if we felt like going over to nearby Mount Rixford. After a short distance on the trail, our summit was in sight.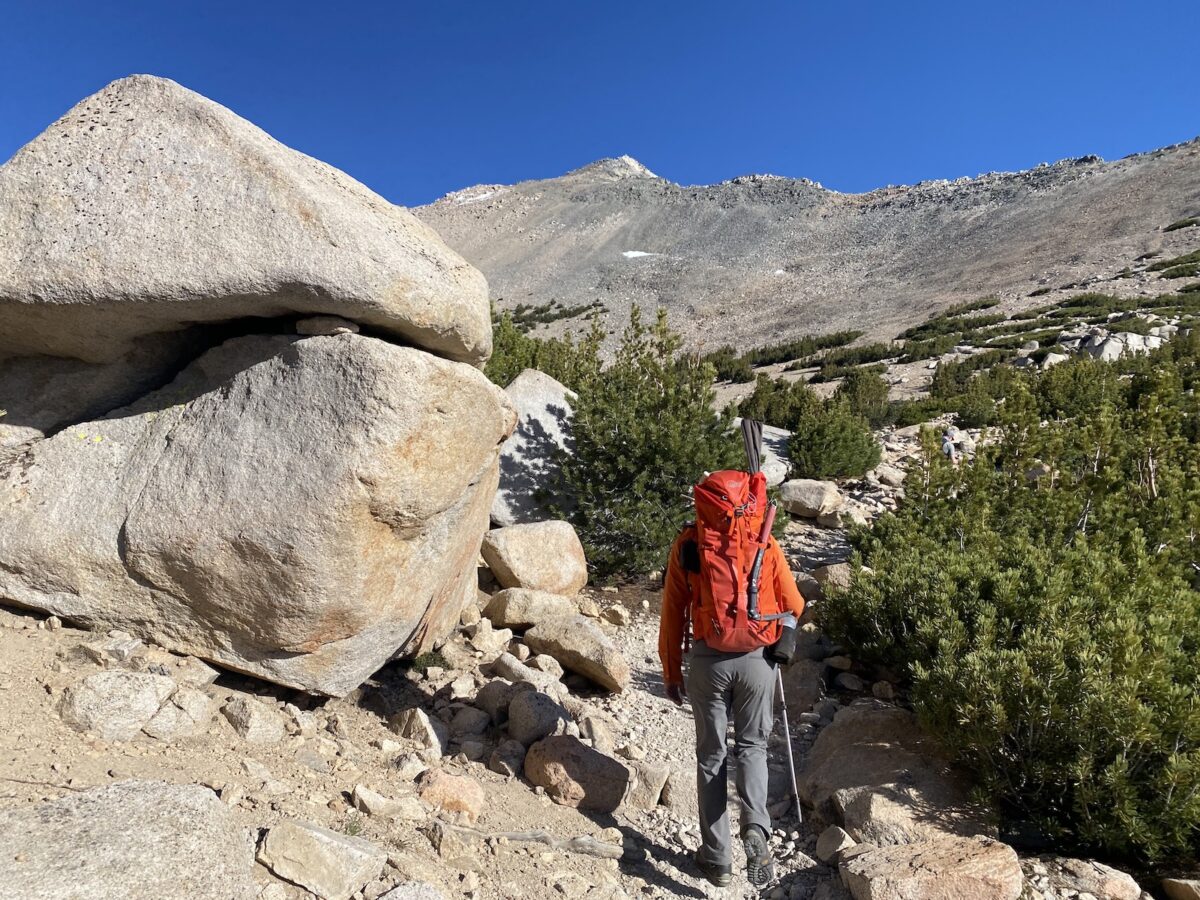 We were taking it pretty easy going up the trail, enjoying the scenery. I was definitely feeling the fact that we were over 11k feet. The scenery itself was absolutely breathtaking.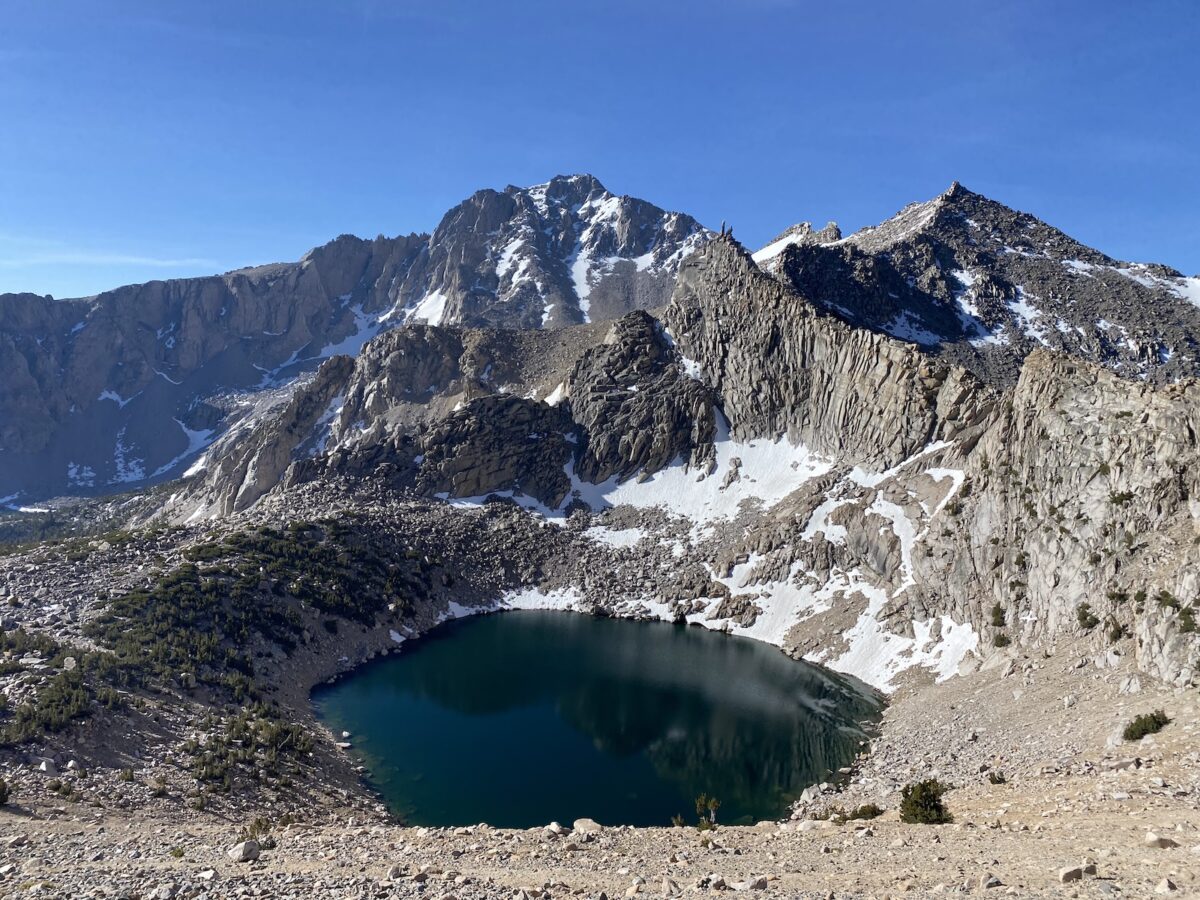 Before long, we arrived at Kearsarge Pass, where we took a sharp right and proceeded to head straight for the summit.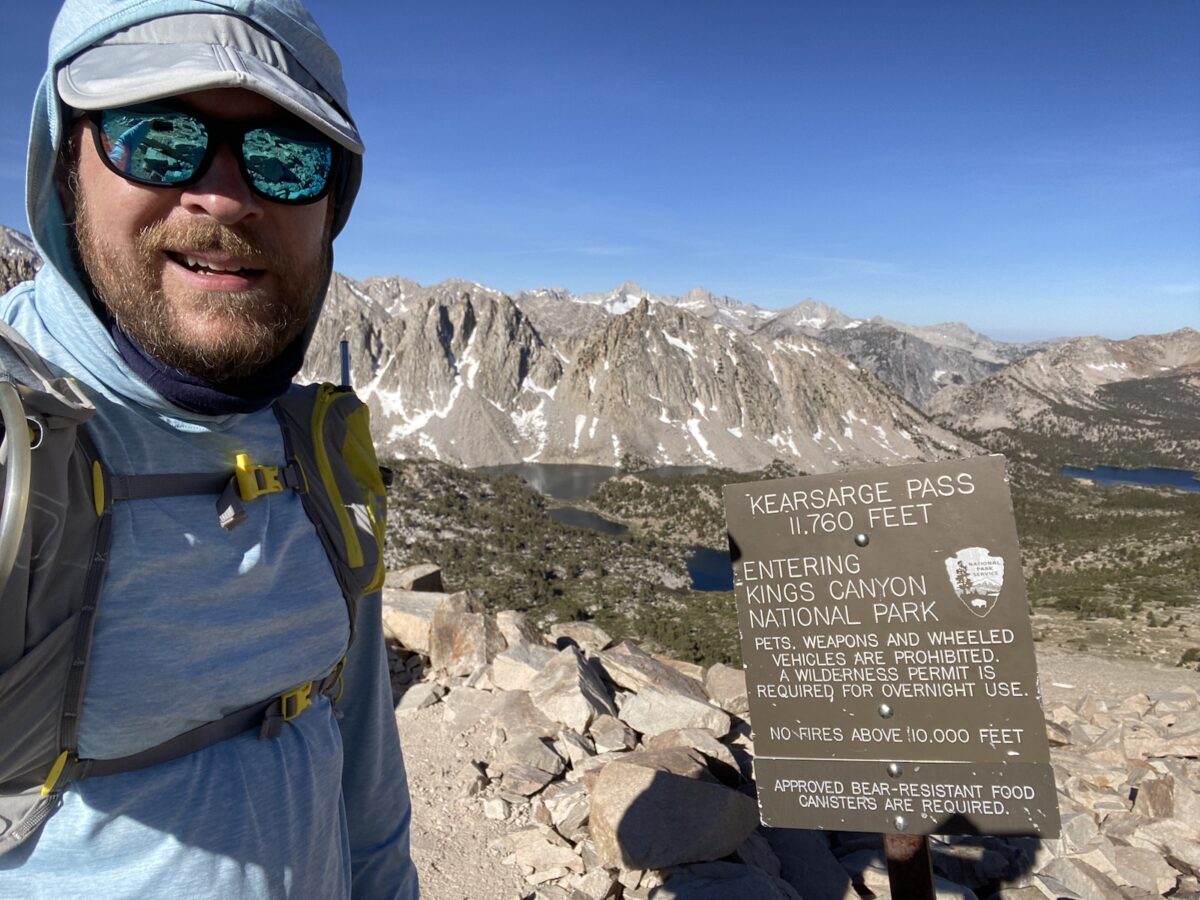 The terrain leading to the summit is pretty straightforward – a light class 2 climb up the ridge to the summit.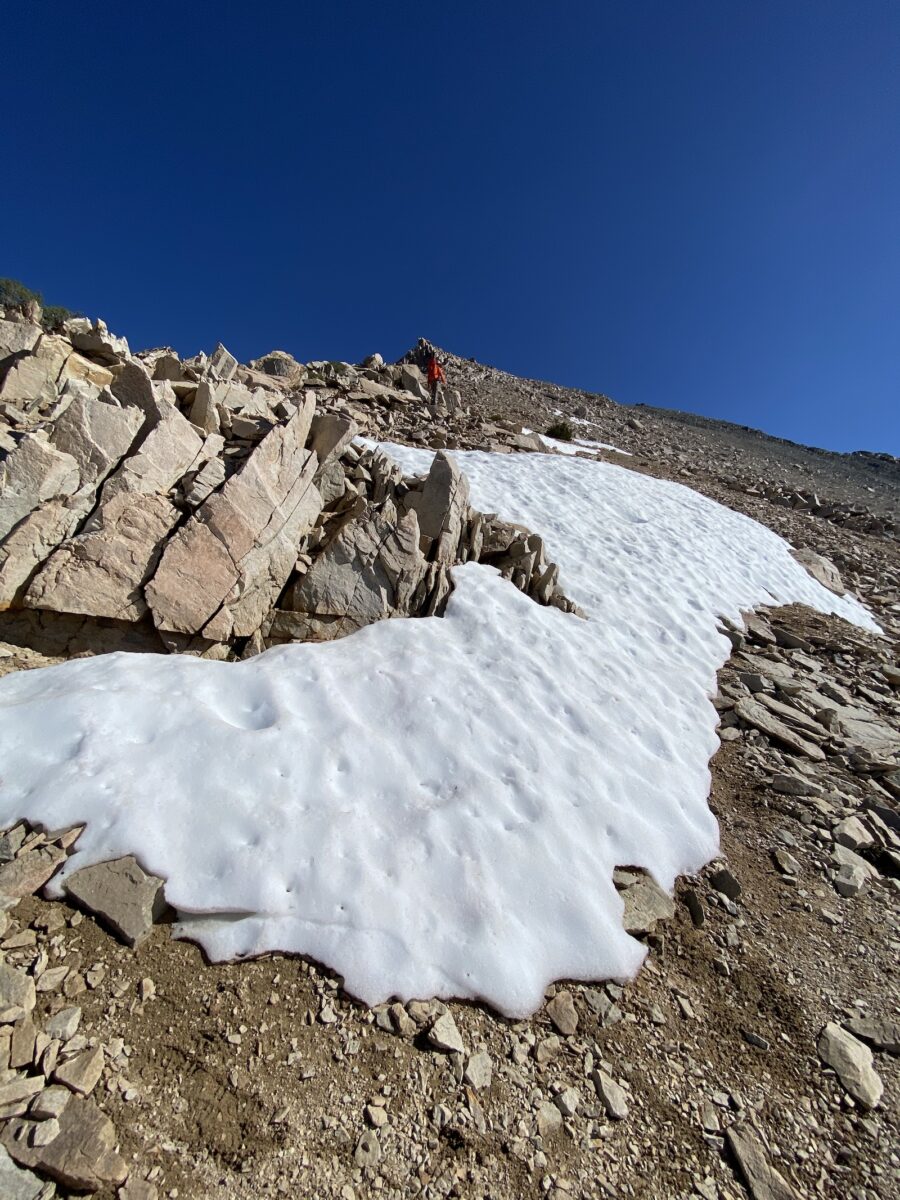 Nearing the top, the views really start to open up. I couldn't resist turning around to soak in the views of the surrounding mountains and lakes.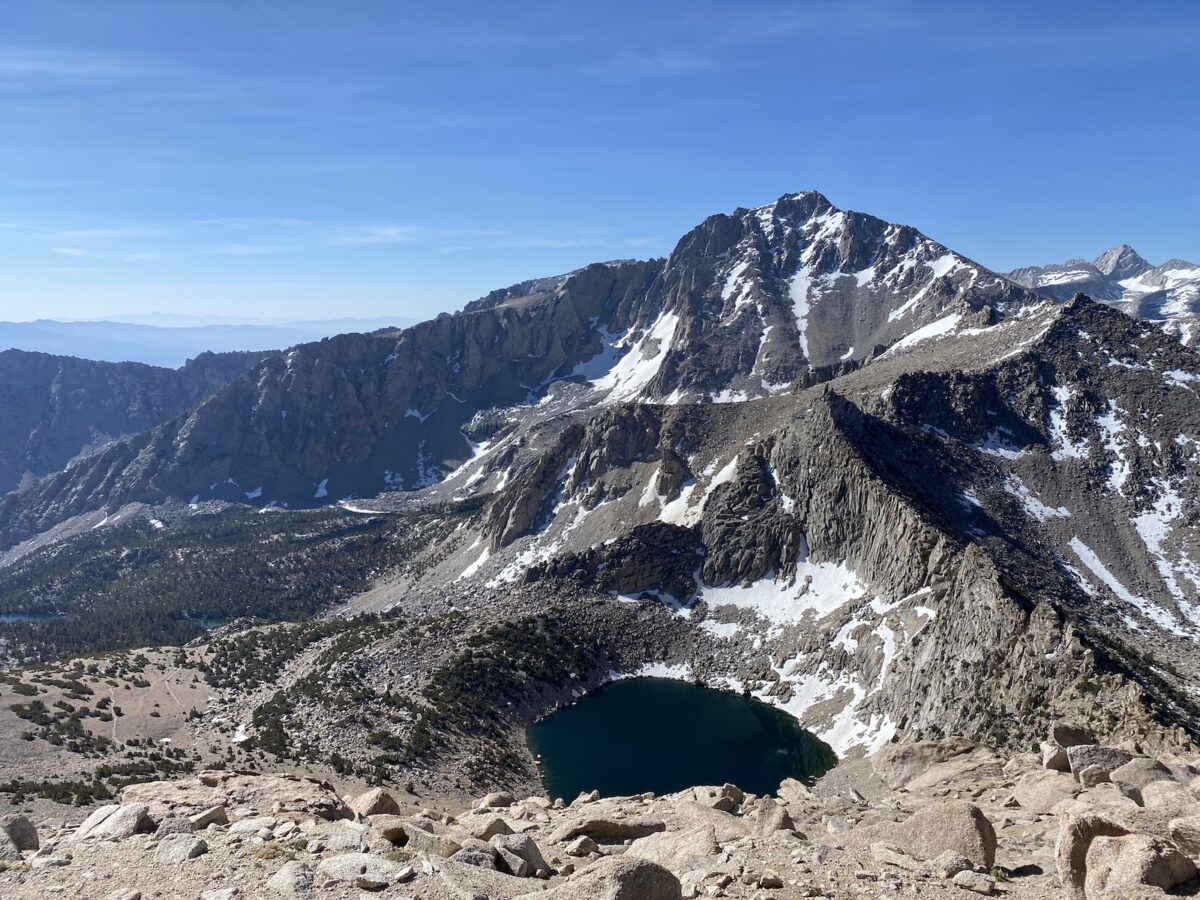 Arriving at the top, there's a little bit of a (narrow) plateau.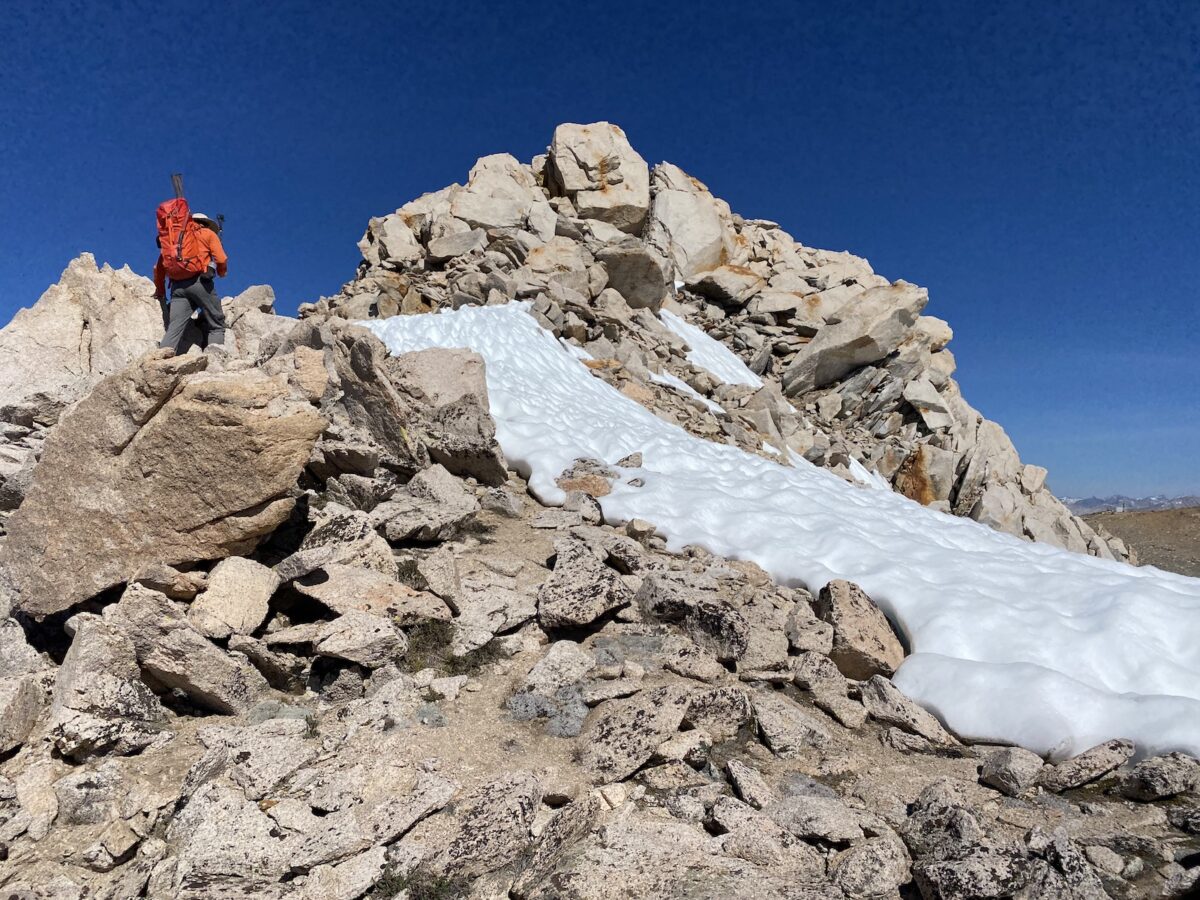 The actual summit block is just a little bit further, and requires a class 3–4 climb to the top. I wanted to go up there, but I decided to save it for later—just before we left.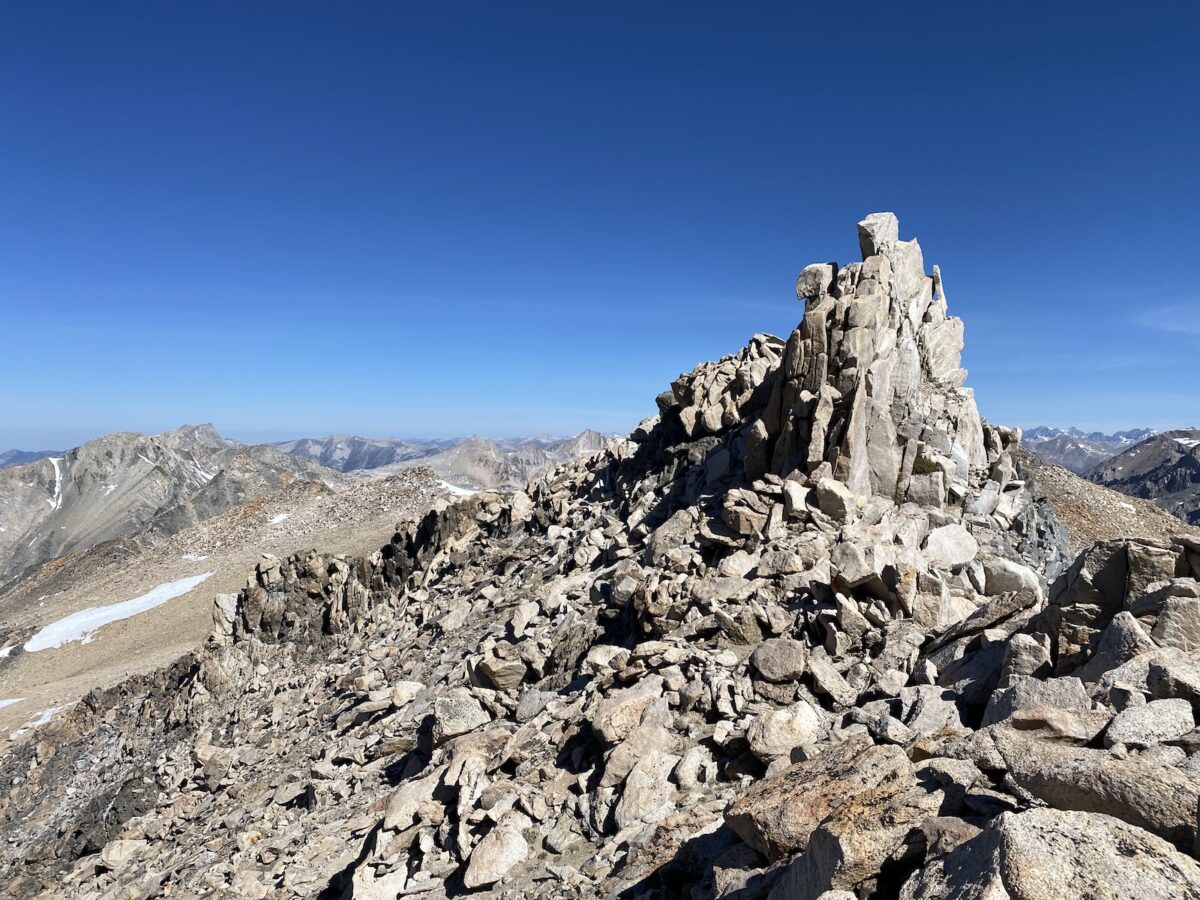 By this time, I'd gotten a good look at what the effort to get over to Mount Rixford would be. Adam and I discussed and agreed we'd probably just stay at Mount Gould longer, making it our only summit for the day. We took a moment to enjoy the views, then proceeded to set up our radio equipment!
Setup and Operation
Since we had another ham back at camp, Dennis KA6DUH, Adam and I both made contact with him on our HT's as our first contact for the activation.
Adam and I discussed our operating plans on the way up, and having arrived, finalized our plans. I'd be setting up and operating on HF first, with Adam setting up his home-brew beam antenna and getting some long-range VHF contacts!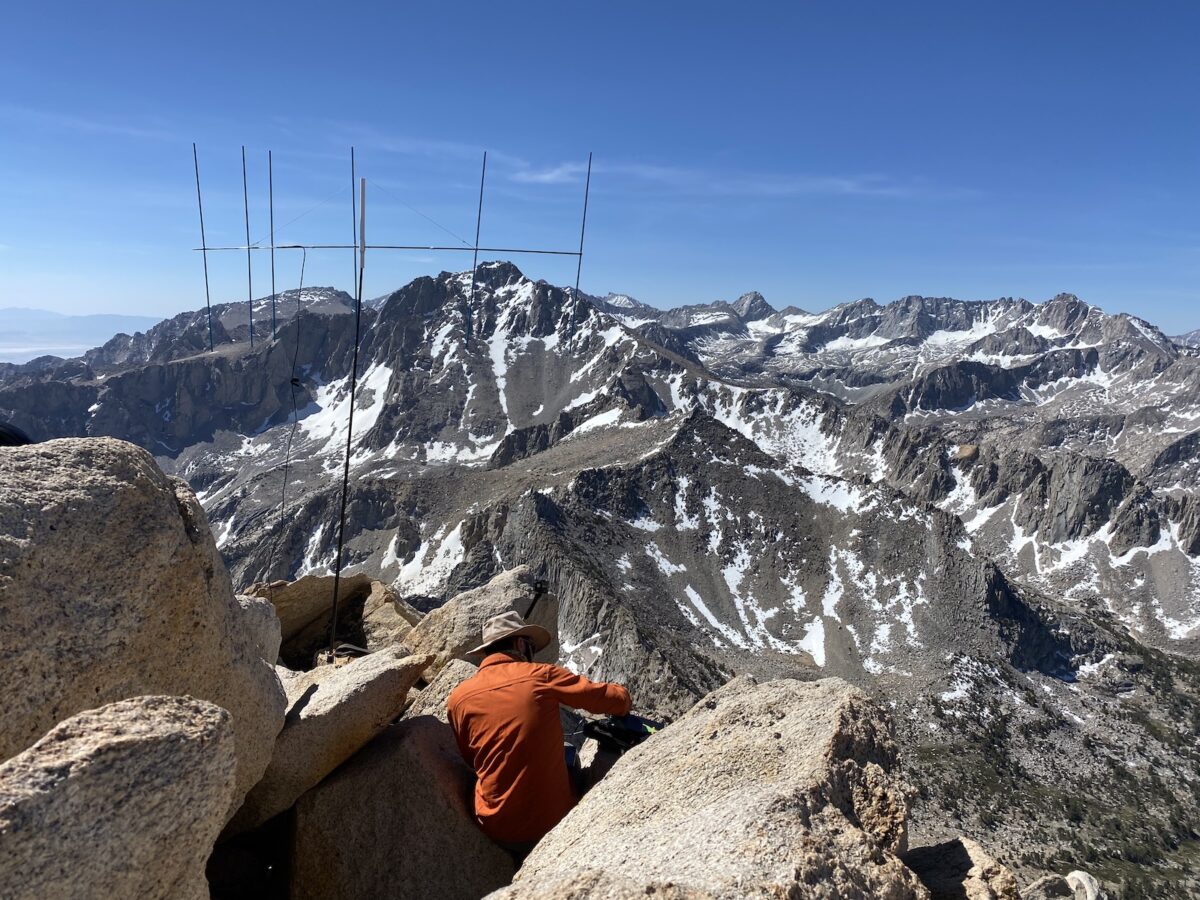 I set up my little MTR-3B radio, with my trapped EFHW antenna, and decided I'd focus mostly on making summit-to-summit (S2S) contacts. I made a couple of those, then put out a spot on SOTAWatch to make some regular contacts. After those dried up, I went back to chasing S2S and got a bunch more. I think I ended up getting a record number of S2S contacts (for me) at 8 total summit-to-summit contacts.
By then, Adam had moved on to HF (and he moved away from my position on the summit so we wouldn't have interference). I got another contact on 2 meters FM, then put out another SOTA spot – this time for 30 meters. I made several more contacts there.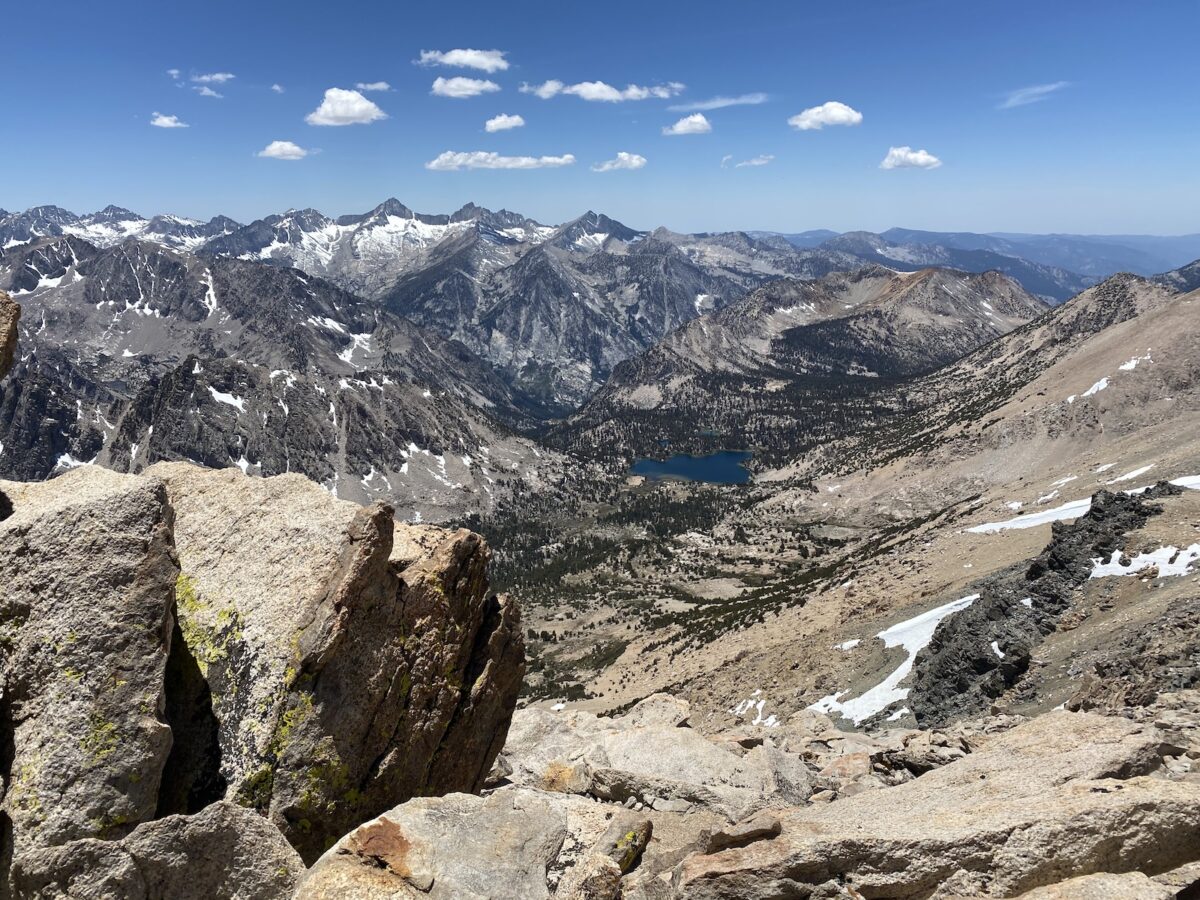 Once we were all wrapped up with our radio operation, we went to go climb the actual summit block. Here's a video of that fun little climb, courtesy of Adam K6ARK:
Activation Log