Quick Info:
| | |
| --- | --- |
| Activation Date: 16-17 May 2020 | |
| Transport: Hike | Distance: 4.2 miles |
| Elev. Gain: 800 feet | Time: 1.75 hours |
| Rig(s): FT-891, MTR-3B | Bands: 160–2m, CW, SSB, FM |
| Antenna(s): Random Wire, EFHW | Antenna Support: Many Trees |
| RF Noise: Low | Cell Service: Good (T-Mobile) |
In need of some fresh air, and trying to keep with my self-imposed goal of some kind of camping at least once per month this year (including once in the back yard due to COVID), I decided to do a quick overnight trip to this summit. I wasn't able to find a whole lot of information on it, so I wasn't sure I'd even be able to make it to the summit. As it turned out, there weren't any issues.
Getting There
I planned my trip such that I wouldn't have any stops, other than for fuel on the return leg. Following dinner, I headed out to the Shaver Lake area. Heading north on Highway 168, I found the first of two potential spots I'd park and start my hike. I'd be doing either Mount Stevenson, or the nearby Flume Peak, depending on where I was able to park. I later found out that you can get to Mount Stevenson from either location, simply taking a different route to the mountain. It makes me think that Flume and Stevenson might be a good "two-fer." Having arrived at the locked gate that is the trailhead for Stevenson, I parked as far off to the side as I could, and proceeded with my hike.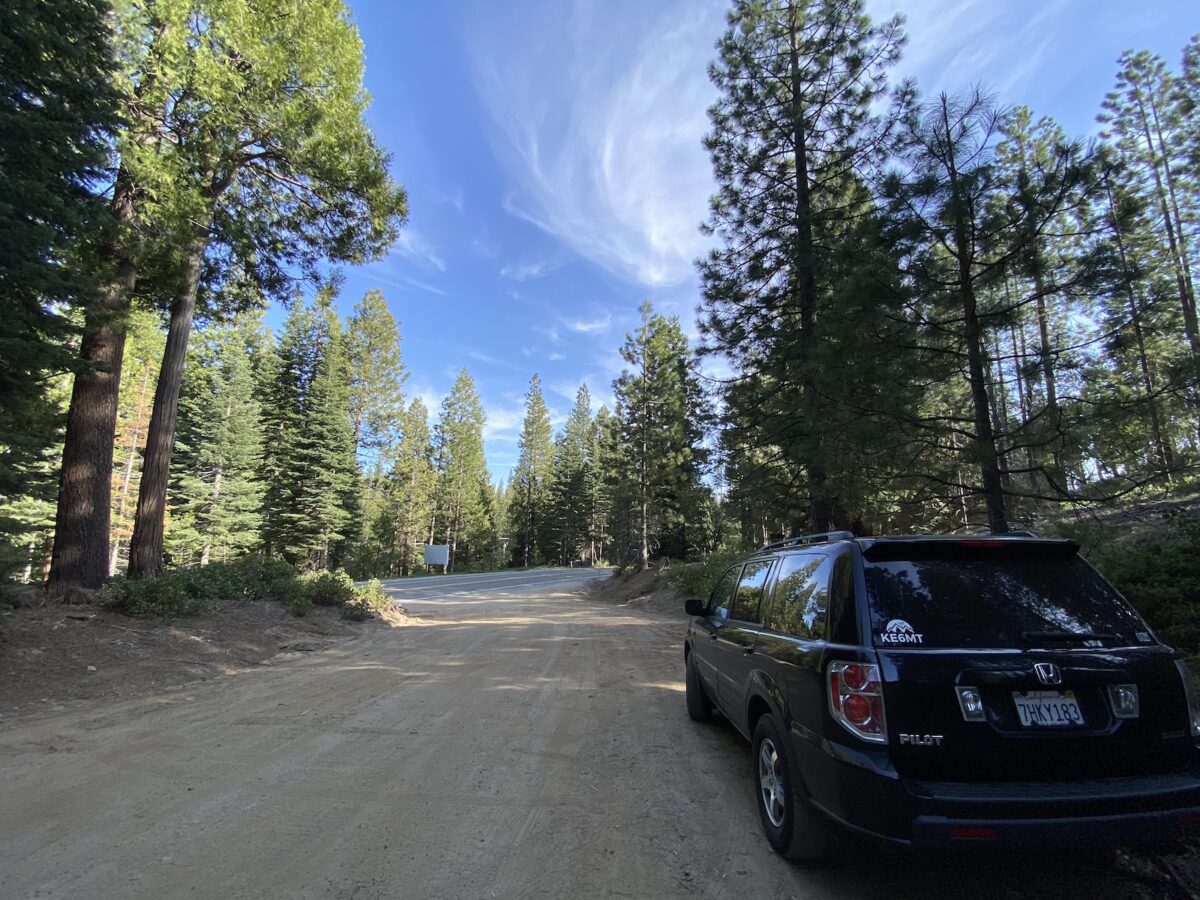 The Hike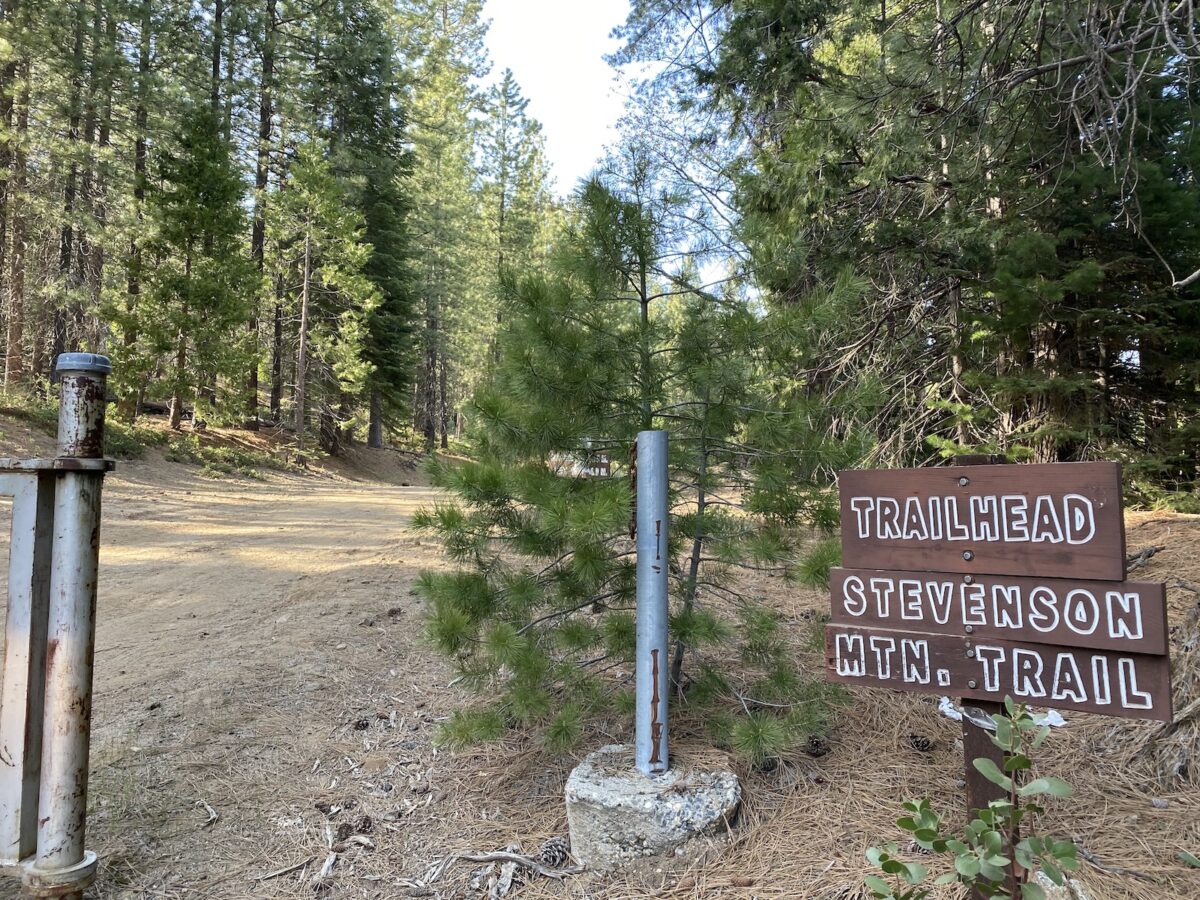 Lacking solid information on the available trails, I actually planned to just cross-country hike straight up to the top. So once I passed the gate, I took a slight left and headed for the summit, off-trail. A little while later, I started getting nice views of nearby Shaver Lake.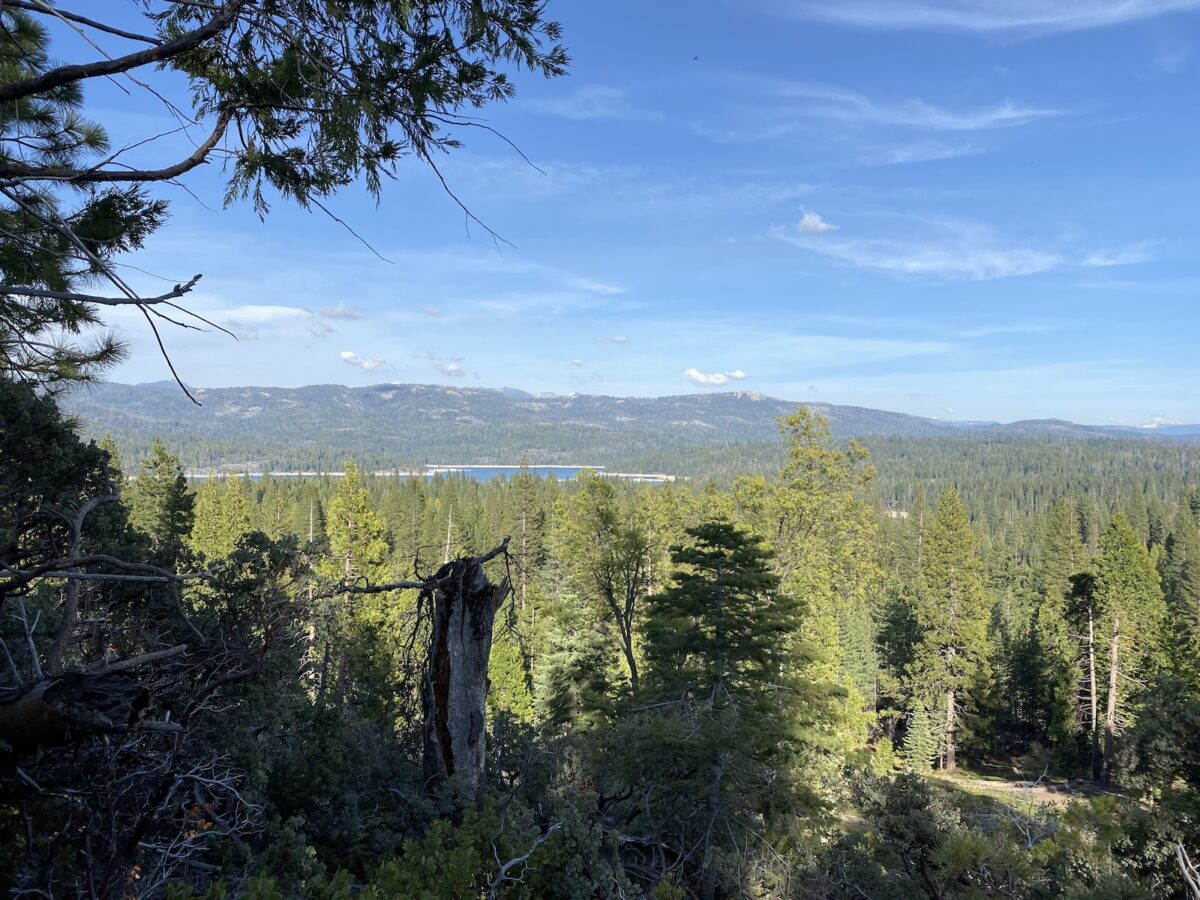 It became apparent that the area had recently been selectively logged. So most of my off-trail travel was actually pretty straightforward. Although, as I neared the top, I encountered more and more potential obstacles in the form of manzanita and other bushes. I was able to route around most of these, with the exception of one very grueling section.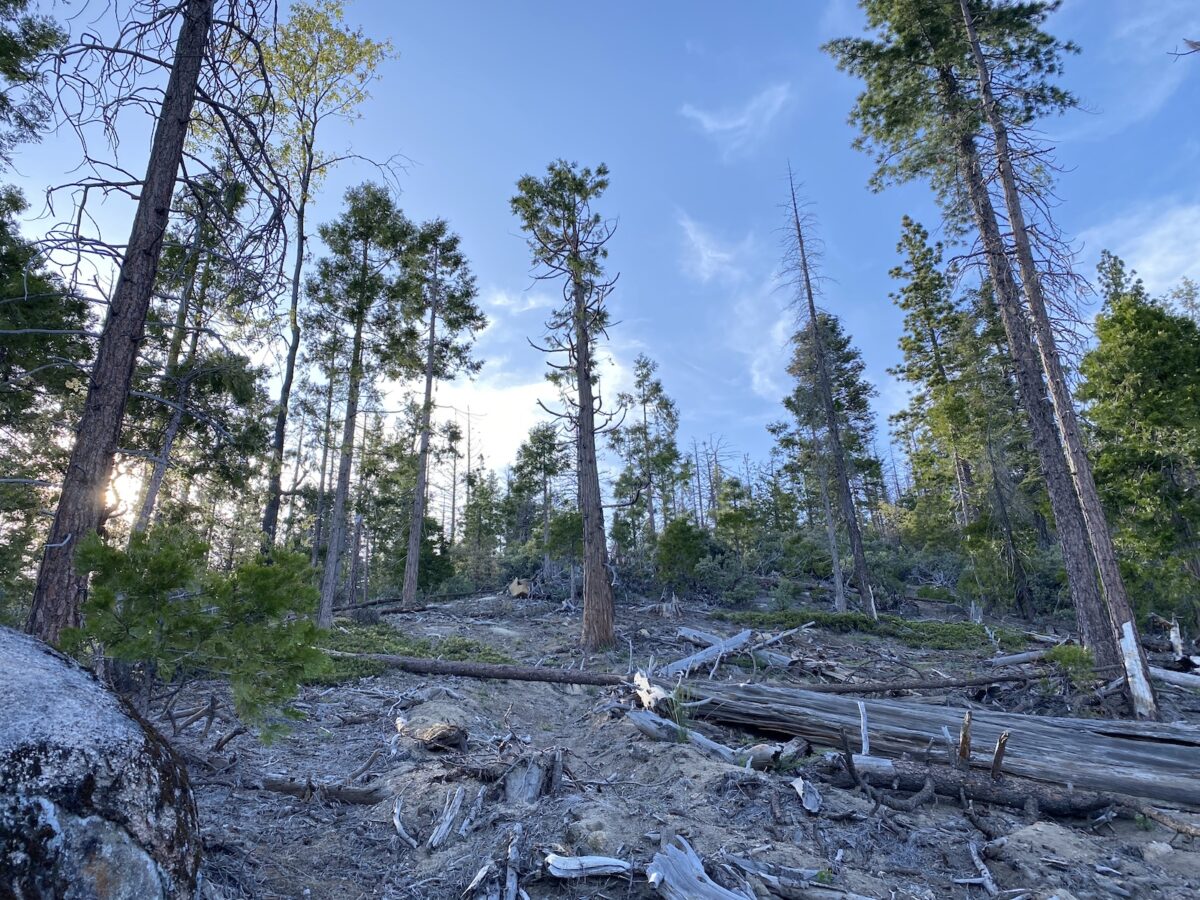 Knowing now that there's a nice, wide trail to the top (which I used for my descent), I'd definitely recommend using that rather than the direct, off-trail route.
After about 40 sweaty minutes of going straight up the hill, I arrived on the summit plateau. Here, it was very apparent there was currently logging going on. Although, since I was here on the weekend, there wasn't any logging. But the whole area smelled of fresh-cut wood and there were huge piles of trees. And virtually no undergrowth/shrubbery.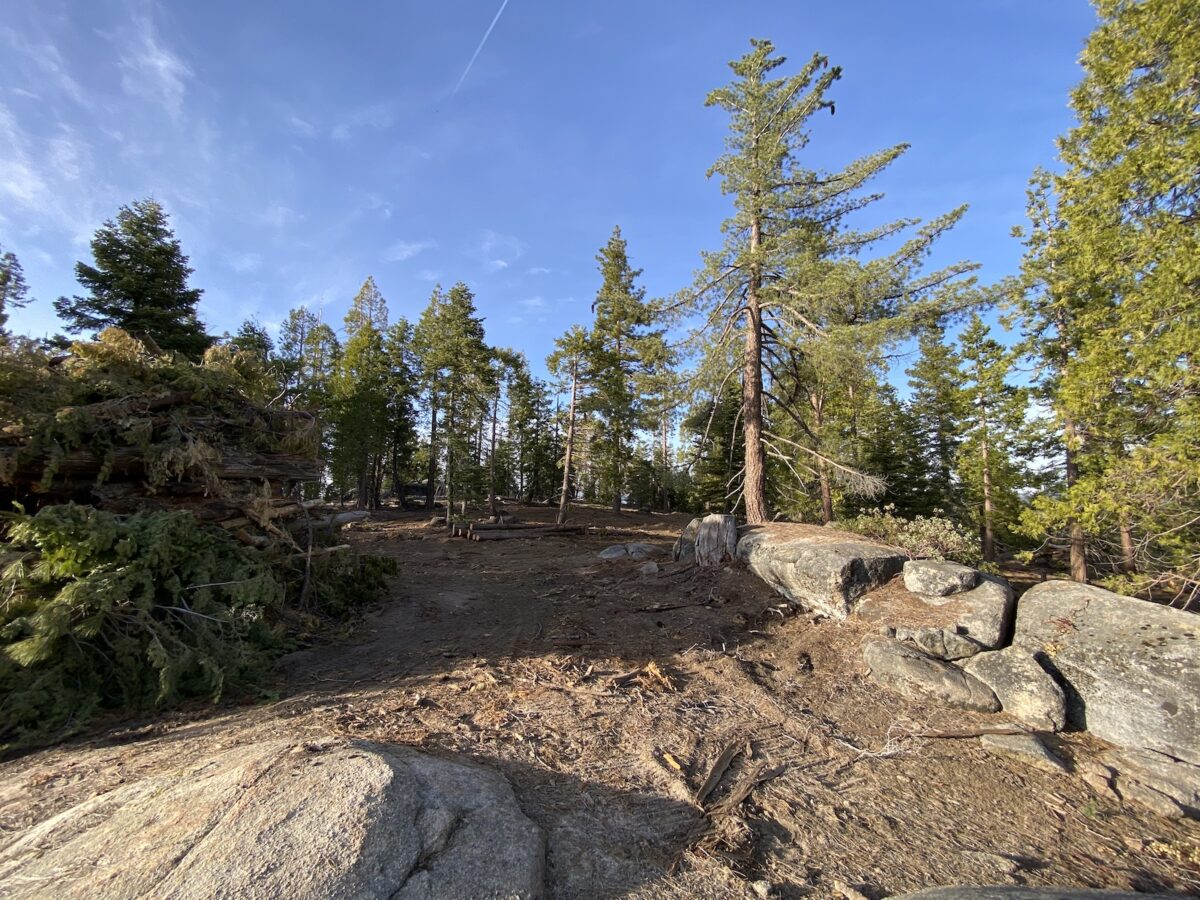 Now, Mount Stevenson is really more of a ridge. So once I arrived at the summit, I proceeded to look around for an ideal place to pitch my tent for the night. The SOTA activation zone covers 25 vertical meters, which makes for a pretty large horizontal area. Not very far off of the true summit, I found a nice, tucked away spot with some flat ground and good trees to help support my antenna.
Setup
The very first thing I did was to pitch my tent. A pretty quick task since it's just two poles, and I didn't bring the rainfly. Since I'd be operating from inside the tent, its location somewhat determined where I'd put the antenna. Since I wanted to do some 160m, 80m, and some other bands, I'd be using my ~140ft random-wire antenna with a 9:1 unun and my MFJ auto-tuner, all hooked up to the Yaesu FT-891.
I'd learned from my last (camping) activation with this antenna, that the quantity of wire means it either has to be really tight, or it will droop (assuming only two points of support). So this time around, I added another pole. Since the mountain sloped down in the intended direction of my wire, I used a longer pole on the lower part. So the wire started at my unun, went up to the first (shorter) pole right away, then to the longer pole, finally terminating at a high tree branch. On the very end, I have some elastic cord tied to it. I used some lightweight rope for both the far end of my antenna, and to hang my food/smellies at the end of the night.
Operation – Night
Around 8pm, I started out with some simple operation at around 60 watts, on 40 meters. On that band at night, it's fairly easy to get contacts across the US. I made several contacts with chasers in the Western US, and a couple of contacts on the East Coast. Then I took a break to eat a late dinner.
Getting back on the radio, I coordinated and made a Summit-to-Summit (S2S) contact with Adam K6ARK, on 160 meters! He was on a summit in Southern California, about 310 miles away. This was super-exciting, since it's not only rare to make SOTA contacts on 160 (or even 80) meters, but we'd pulled off a Summit-to-Summit contact!
After that, I called CQ a bit and didn't make any more 160m contacts. I then switched over to 80 meters and made several more contacts – including another S2S with Adam K6ARK!
By this time, it was a bit later (and better conditions for 160m), so I made a few more contacts on 160m.
Switching back to 40 meters, I wanted to see if I could get some DX stations – which I did – John ZL1BYZ down in New Zealand!
All in all, a great evening of operation.
Operation – Morning
Right when I woke up, I made a couple more contacts. Then I took a nice walk around the summit and had a nice breakfast.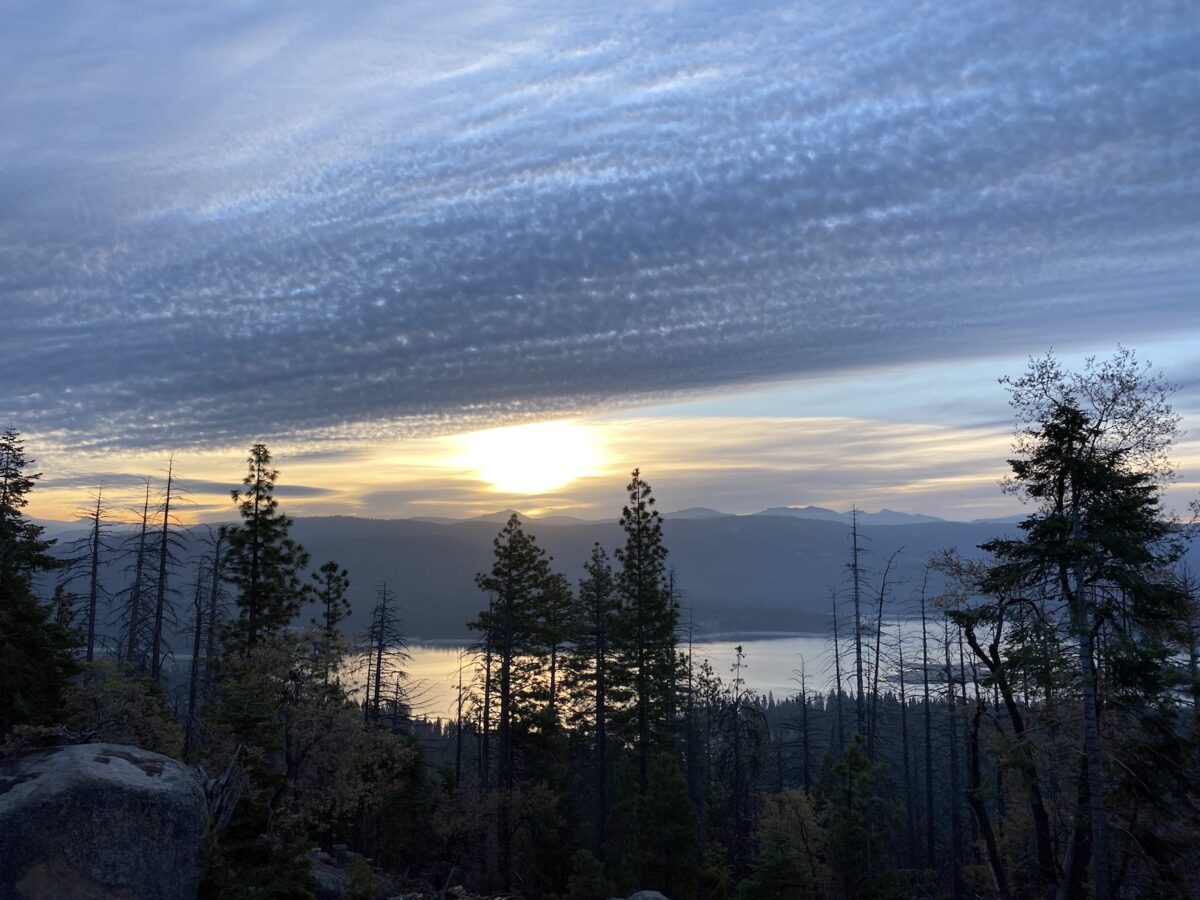 Returning back to camp after my walk, I decided I'd pack everything up, except one of the poles. Once I did all of that, I made one contact on the 2 meters FM, then set up my little MTR-3B (Mountain Topper) and my ultra-compact three-band antenna. With that setup, I made a whole bunch more contacts on 20 and 40 meters, including another S2S – this time with Chris, N1CLC over in Arizona.
Feeling fully satisfied, I finished packing up and headed down the summit. This time, taking the trail! It was an enjoyable walk down.
Activation Log